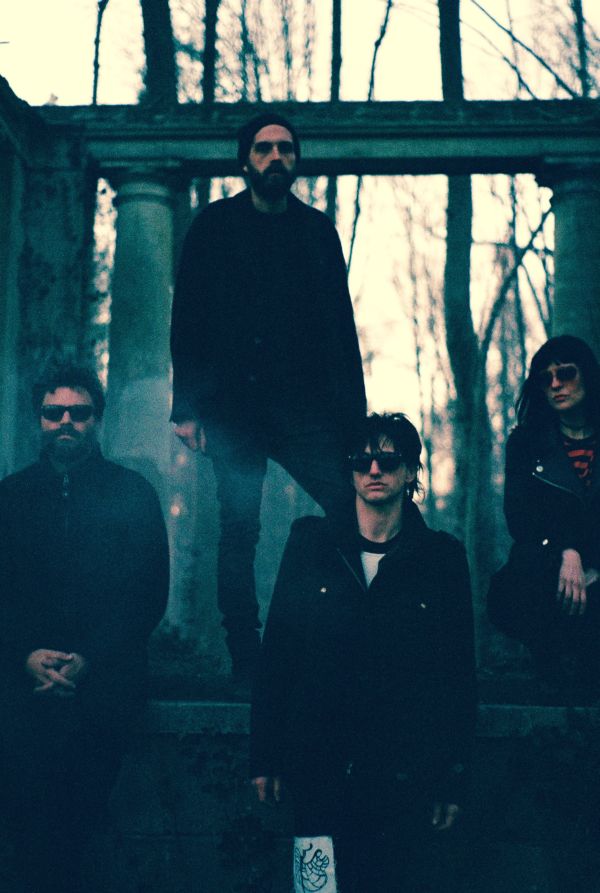 28 March 2018
Dead Leaf Echo; Photo courtesy of Dead Leaf Echo
Brooklyn's Dead Leaf Echo is a music/art collective that released their debut LP Thought and Language in 2013. That first album was strongly influenced by many 4AD acts, brought into sharp focus by the mixing of John Fryer (Lush, NIN, Depeche Mode) and featuring artwork by 4ADs legendary designer, V23's Vaughan Oliver (Pixies, Bauhaus). The band maintains a distinctive ethos – embracing their idols, while still forging their own sound.
Their second LP, Beyond Desire, came out via Papercup Music, and found them working with legendary My Bloody Valentine engineer Guy Fixsen (MBV, WIRE) and Jorge Elbreht (Ariel Pink, No Joy, Frankie Rose, Violens, Lansing-Drieden) with artwork from Timothy O'Donnell (another 4AD design alum) at Mexican Summer's Gary's Electric studio in Greenpoint.
Both Dead Leaf Echo's live performances and records, replete with gorgeous packaging and artwork, are crucial entry points to understanding the band. DLE has done multiple national tours over the past three years resulting in over 200 shows and taking them to SXSW, CMJ, NXNE, Northside Festival, and everywhere in between.
They've constantly topped the CMJ Top 20 indie charts, have played twice live on the venerable KEXP's John in the Morning, have been on regular rotation on KEXP, and have also been featured on Nic Harcourt's KCSN show Morning Becomes Electric.
The Big Takeover is delighted to premiere the new video for "Temple", a kaleidoscopic journey that evokes a unique nostalgic feeling. Dream-pop and post-punk collide on the track as it glitters with gritty indie rock sonics and emotive vocals. The urban environment and natural world are both represented in the video that is also peppered with band performance clips, art imagery, and design overlays.
The band explains, "The video was shot all on vintage 8mm film cameras by Philadelphia based filmmaker Bob Sweeney and then edited by LG Galleon. It takes the band thru Downtown Manhattan, Queens, and all parts of Brooklyn ending at the beach on Ft. Tilden on the hottest day of last summer."
Tour Dates
March 29th Brooklyn NY Secret Project Robot
May 16th Odense Denmark
May 17th Hamburg Germany Grüner Jäger
May 18th Berlin Germany TBA
May 19th WGT Festival
May 20th Liberic Czech Rep Azyl Pivini
May 22nd Leipzig Germany TBA
May 24th Yverdon les Baines Switzerland TBA
May 25th St Gallen Switzerland Grabbenhalle
May 26th Cologne Germany Tsunami Club
May 27th Lille France TBA
May 30th London UK The Lexington
Soundcloud
Bandcamp
Website
YouTube
Facebook
Instagram
comments powered by