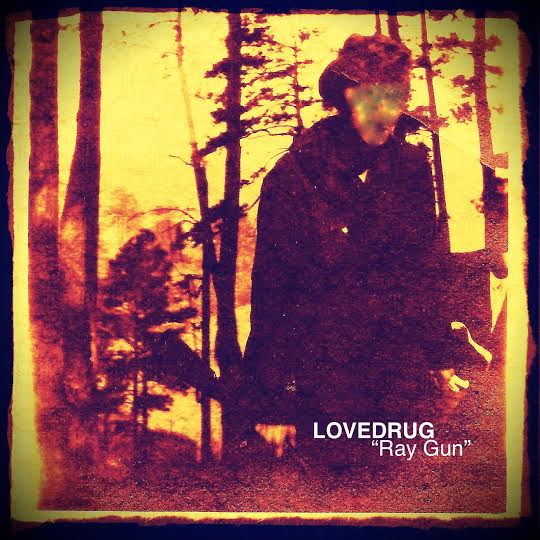 9 July 2015
It's been a few years since we've heard from Nashville, Tennessee's Lovedrug. They appeared in 2004 and instantly impressed with their superb debut album, Pretend You're Alive, and they followed that up with three equally enjoyable albums and a handful of EPs. They've been quiet for some time, as you'll read below, and though they've not yet solidified all of the plans and details for their fifth studio album, entitled Notions, they've allowed us the pleasure and opportunity to give you a sneak peak by giving us the chance to share one of the album's highlights, "Ray Gun." Leader Michael Shepard sat down with us to tell us about what's going on
It's been nearly four years since your last album, what have you guys been up to?
A lot has happened in the world of Lovedrug these last few years. After our last album, Wild Blood, we kinda hit a wall. Everyone was tired and a little disconsolate about the state of our affairs. The band wasn't getting along very well, and it was evident that a break was needed. Just so happens that little break turned into a hiatus, and before I knew it, the other guys were involved in other projects, and seemed quite happy. I had been doing some soul searching; trying to figure out my next move. I got into the song writing game a bit for syncs and placements, that sort of thing. So I hunkered down, and I went into studio rat mode.
It was hinted at that Lovedrug had split up, and you were working on a new project, Boys On The Radio. Was that the case? If so, did something about Boys lead to returning to Lovedrug?
Lovedrug never really split up; it just sort of faded into the background. During my studio rat phase I started writing a lot of pop songs. I'd always wanted to make a pop album and I thought, now that I'm trying to write for syncs, what better time! That's how Boys On The Radio was born. I ended up working with brilliant Nashville based producer Allen Salmon for the album. (Horizons, released earlier this year.) It was a lot of fun just getting together everyday and coming up with catchy licks, etc. I initially didn't intend for that to be a "real" band in the sense that I didn't really have plans to go on tour with it or anything. I landed some gigs though and put together a band to play out. I think it was playing gigs again, even though it was a different band and different music, that made me miss Lovedrug. I mean, I started Lovedrug back in 2002 when I was 22 years old. It's my baby. I'll always love it.
Tell me about the making of this record. Did it differ much from your previous experiences?
It's my first time ever writing everything, recording ALL the instruments, producing and mixing my own record from start to finish. And wow, when I say it like that, I sound like a real ass. (Laughs) But whatever, that's what happened. It was just me, in my studio at home, making songs. I had feedback from some great friends along the way though, and that definitely helped. It actually ended up being really therapeutic, recording everything myself. When something sucked, there wasn't any confusion about whose fault it was! (Laughs)
Tell me a little about "Ray Gun," the song you are sharing with us.
"Ray Gun" initially was a joke, because it essentially embodied everything I love about 80's arena rock, palm-muted guitars soaked in chorus included! But then I kept listening to it…and then I couldn't stop listening to it! It's an anthem for anyone who's ever been a music-soaked nerd thinking about falling in love for the first time, and then thinking about it again twenty years later. That's what makes the song good and serious to me; there's a counterpoint about hoping that you didn't miss out on something. I'm pretty sure we all do that when we hit thirty-five. Right? Right???