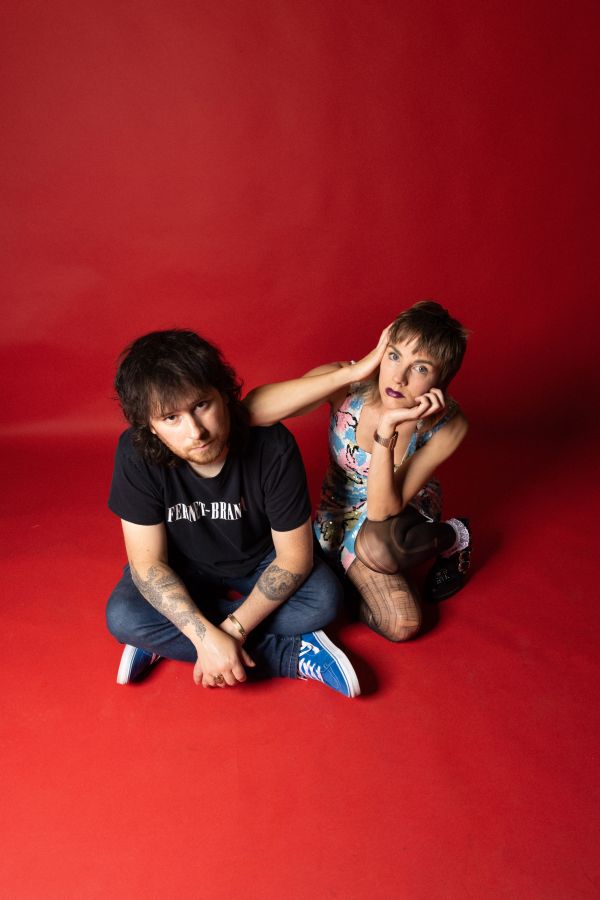 14 July 2021
Broken Baby – Photo Credit: NetoVelasco
Broken Baby have been kicking around the LA scene for a handful of years now, packing pre-pandemic clubs for sweat soaked, euphoric ragers.
Their distinct blend of angular guitar work, throbbing basslines, and Amber Bollinger's attitude-drenched voice are hard to deny, and when they finally returned last month for their first show back, it was to a sold-out crowd at El Cid.
"It felt great. We love playing live. We missed playing to a packed room. It was sweaty. It was loud. We were home!," exclaims guitarist/producer Alex Dezen.
Today, the band are announcing their second album, Late Stage Optimism, with the blistering "Get The Piss Up."
The ferocious rhythm section provides a backdrop for tongue-in-cheek lines like, "Yea I'm so pretty and a bit uptight" before the chorus erupts with a shriek. The song was written as a sort of fantasy for a post-pandemic thrash party, a future where we're all "a little nicer, a little more inclusive and inviting," the band explain, "Maybe try not to always make ourselves the center of our world but try to actually live IN the world and share it with others."
"When we were working on this album during the pandemic lockdown, we really had to scrape the bottom of the barrel of motivation to find the energy to keep working, which kind of left us in this fugue state of over-caffeinated mania to block out the world and finish the record," the band comment. "It all felt very much like an absurd mutation of ambition and desire."
The record is a sonic middle finger to the structures that keep us locked in "a funhouse of equal parts injustice, political absurdity, and inequality," and what could be more fitting than an album title like Late Stage Optimism?
Compared to their 2018 self-titled debut, the new record is an evolution in songwriting and production. The bass is deeper, the guitars are grittier, and the hooks are bigger. There's an obvious love of pop music coursing through the album, and the chorus on "Get The Piss Up" begs to be screamed in a packed downtown warehouse.
The duo cite the B-52's, Queens of the Stone Age, The Hives, Breeders, and more as obvious inspirations. "But there's also some deep DEEP adoration of Cindy Lauper 24-hours a day around here," they state. ""Money Changes Everything," "Time After Time," "Girls Just Wanna Have Fun," and "She Bop" are all on the same album. Just incredible."
It's a well-kept secret that Dezen is actually a charting songwriter in his own right, with writing credits on songs by Justin Bieber, Robin Thicke, and The Veronicas, among others. That sensibility comes through on the songs that comprise Late Stage Optimism, melding a love of pop music with the snarled anthems of the So-Cal punk the duo grew up on.
Late Stage Optimism is expected September 24th via Poor Man Records.
Facebook
Instagram
Twitter
Bandcamp