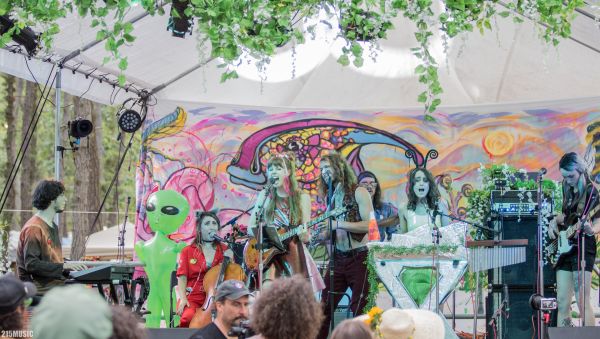 7 July 2021
Miss Cantaloupe – Photo Credit: 215 Music
There's not a lot of whimsy in the world right now. The devastation of the past year has robbed us of our sense of wonder. But we are slowly coming back to life. Good songs can help us to tap back into that same lust for life. Enter Miss Cantaloupe and their delightful new record Beets Began to Rise.
Miss Cantaloupe is a Philadelphia-located dreampop band that features members of all sorts of other bands: Tutlie, The Underwater Sounds, Cigarettes for Breakfast, and Out of the Beardspace.
Their music exists in the nowhere-land between genres. At times, they're making dreampop. The next moment, they're suddenly a chamber pop band. The band is actively looking to change the trajectory of modern indie pop music.
When the first track, "Flowers, Flowers" begins, it's like walking into an auditory meadow full of daffodils. Miss Cantaloupe have managed to craft a sound that is warm, inviting, and rich. Flutes and strings are given as much room in the mix as drums and keyboards, and it creates this dreamy sonic landscape.
Moving into "Come to Us," the doo-wop background vocals and the nearly-dub strumming patterns see the band defying the precedent set by the first song. It's incredible to hear a band firing on all cylinders, able to perform wherever the songwriting muse takes them.
The number of great melodies this band is able to conjure up is amazing. Not only in the vocals, but in the other instruments as well. The run of songs beginning with "Mushroom Meadow Smiles" through "Don't Go Little Doe" move into the mid-tempo range, and are stuffed to the brim with ear-catching hooks. The bass and drum groove of "Don't Go Little Doe" will have you bobbing your head, while the rest of the layers create a tapestry of captivating performances.
The final three songs on the record downshift into dreamy lullabies. "Breathe" features some wonderful arpeggiating guitar, and the sustained notes of the vocal melody allow the arpeggios to take center stage.
The wonderfully-named "Sunshine Daydream" is on the softer side as well, though it feels a little more folksy than its counterpart "Breathe." And last but not least, "Lava Girl's Lullaby" is a perfect closer to this record.
Miss Cantaloupe know how to sequence an album. Every song feels like it belongs where it is placed, especially this final track. As the handpan and guitar-driven waltz puts the final touches on this record, the listener is graced with one final soaring melody.
Listening to Beets Began to Rise is like gazing at a field of flowers. The whole image is spectacularly beautiful. But once you focus on one flower, you notice how each piece is striking and gorgeous on its own. Miss Cantaloupe have crafted an indie pop record where every note and every performance is spectacular, which is a difficult thing to do.
If you're looking for a summertime record to accompany you on a hike through the forest, look no further than Miss Cantaloupe's enchanting Beets Began to Rise.
Band member Christina Klaproth comments, "The album recording process was such a joy. We worked with my old producer Drew Taurisano (from the Tutlie days) and I just love the warm, full sound we were able to capture."
"During the pandemic we had a blast making some music videos, and we're thrilled to have received so many positive reviews of the album in such a short time. Finally, we are excited to announce our post-covid album release show, which will be a free event hosted in Franklin Square Park, Philadelphia, August 20th 6-10pm."
"It feels incredible to be performing to live audiences again, and validating to finally release this album to the world! We hope you enjoy it!"