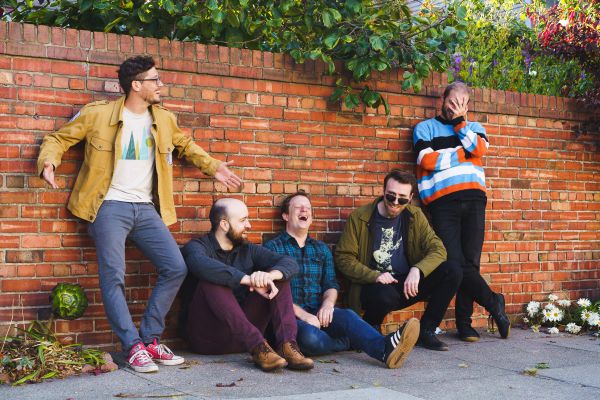 2 November 2021
Quick Fiction – Photo Credit: Vincent Paul Su
Quick Fiction makes swift work in their debut, Fingers Crossed, displaying an array of genre-melding intersections of pop punk, progressive rock, and post-rock, along with pre-existing folk influences spilling over from members Steve Landey, Fred Hatfull, and Eric Shaw's previous project, The Nest.
Once rounded out with members Cody Krivacic and AJ Ferrick, Quick Fiction began to formulate a new sound far more familiar than displaced.
An upbeat squelch of melodic lead and rhythm guitar lines, slinky picked bass, and powerful drums, carried by Eric Shaw's distinct clean and unwavering vocal character are all in the forefront of Fingers Crossed.
The tempo for the San Francisco Bay Area's five-piece debut is set right off from the start with rapid, momentum-driven drum work, interwoven rich guitar lines, deeply moving bass structures, and a distinctly direct vocal melody with occasional harmonies and gang/group vocals. From a previous understanding from members of former band The Nest, the whole band have crafted this unique and powerful debut.
Fingers Crossed is none other but the culmination of the unique mixture and use of polyrhythms, odd time signatures, and various progressive influences found in the math/post-rock realms, with familiar rock instrumentation and progressions that are made easily accessible on this record. Quick Fiction allows these intricacies and complexities to be digestible without too much distraction or thought.
The splashes of intricacy in the record's fluidity are apparent in songs like "Moonroof," where the group demonstrates not only agility with jumping from ambient, gentle, open, and clean passages into heavier sections, but concurrent with wide tapestries of arrangement.
Moments in the song "Traction" also demonstrate Quick Fiction's agility to seamlessly transition from emotional and airy passages into what feels contradictory, yet so right. Lead guitar solos on tracks such as "Little Blank" and "Temper" demonstrate an array of tones and tasteful stylistic choices utilizing delays, reverbs, distortions, fuzz, and raucous overdrive.
Unaffected chemistry in the act is abundant across the record.. The introduction of "Disrepair" hits with a collective emotion for the record as a whole – for the listener to be unencumbered, engaged, and certainly headbanging along – eager for the next unexpected turn around each corner.