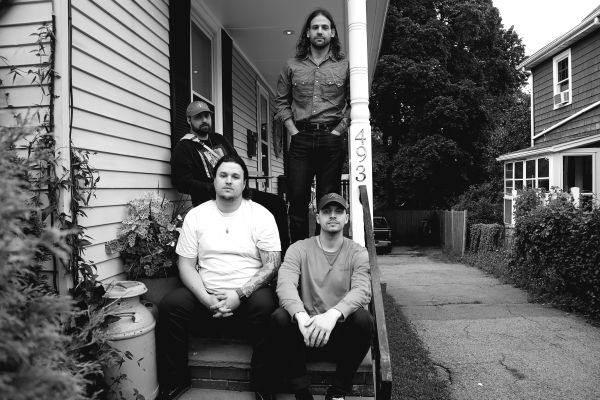 28 October 2021
New You – Photo Credit:
Sometimes you can play a song and tell that the artist just gets it. The aforementioned "it" can really be anything – a truth about the universe, the exact mechanisms of a particular genre, or even just a good, well-executed sonic vibe.
In the case of New You's newest double single, "Like Automatic" backed with "N.A Kicker," there's a mastery of songwriting and textural elements you don't hear from every indie rock band.
New You is the brainchild of Blake Turner, who loves exploring pop motifs drenched in fuzz. Hot off the heels of a 2021 solo EP and subsequent single, Turner recruited Chase Valentine, Mike Parker, and Cody Gores to help reinforce his scrappy reinvention of power pop.
There's a huge, wide-open sound on "Like Automatic," as if the band was aiming for the stars. You can hear musical hints from a broad spectrum of artists, from My Bloody Valentine to Third Eye Blind. While there's constant massive chords driving the song forward, there's still empty space in the mix. Nothing disturbs the beauty of the song. Turner's voice is sugary sweet, a perfect compliment to the backdrop created by the distorted acoustics and dreamy synths.
The band's cover of Superdrag's "N.A. Kicker" is also amazing.
Sometimes you can play a song and tell that the artist just gets it. I said it again because it's so true here. This band is going to continue releasing great, urgent, powerfully distorted pop. It will be hard for them to top this single though.
Listen to "Like Automatic" and "N.A.Kicker" and read and exclusive interview with the band below:
The band is currently split between Washington and Massachusetts. What was it like to track these songs digitally?
"It was an interesting experience. We basically were trading stems over Dropbox, dropping them into our sessions and experimenting with them from there. Then when the song was laid out, Mike tracked the drums at our friend Anthony's house. It's cool how easy it is to write across state lines with a process like that, but honestly we're not eager to repeat it. It's way more fun being able to bounce ideas off of each other in the same room. Luckily, as of late September we're all located in Washington State, so no more digital postal service is required."
Can you talk about some of your influences? I can hear little bits of things in the song, but you really blend them into something original.
"For "Like Automatic" specifically, we really wanted to capture the sound of the sort of poppy alternative rock song we would hear on the radio growing up in the late '90s. In a more general sense, we look to alternative and power pop bands like Superdrag, Sugar, the Lemonheads, etc and combine that type of sound with some more modern touches. I'm also a huge shoegaze guy, and I think that influence can creep in sometimes as well."
On your upcoming record [in 2022], can we expect more songs in the vein of "Like Automatic?"
""Like Automatic" is sort of meant to be a standalone song that we're using to announce and celebrate our signing to Lonely Ghost Records, so it wasn't really beholden to any sort of cohesive EP or LP sound. For the next release, you'll definitely hear a similar sort of framework, but with more of an eye towards making a release that sounds like it was written with the purpose of standing together as a collection of songs, rather than a standalone single."
What's next for New You?
"We're currently demoing tracks for our first official Lonely Ghost Records release, which we're targeting for Spring/Summer of 2022 depending on how the writing sessions go. It's definitely another step up in our songwriting, as it's the first release we're all writing together in the same room. It's going really well and we can't wait for you to hear it. Thanks."