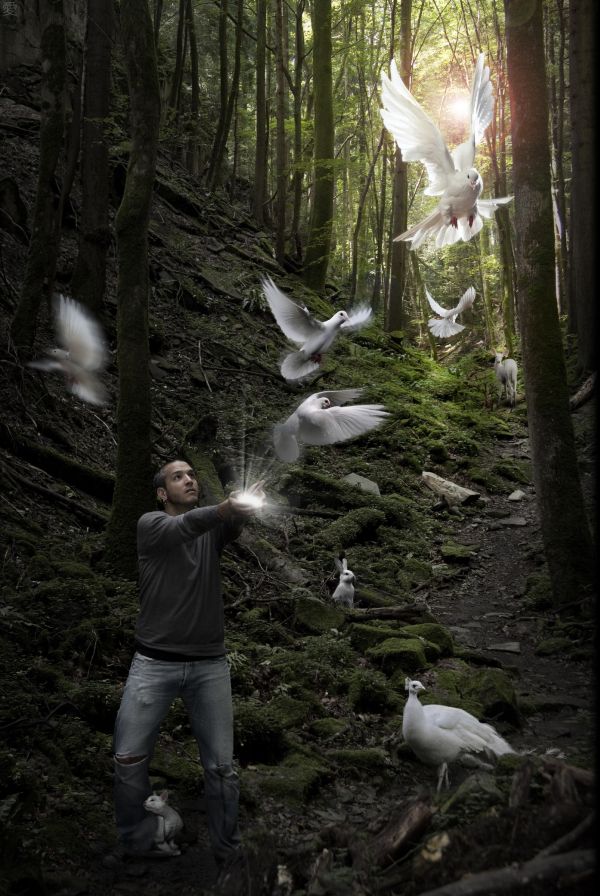 23 July 2020
Andy Jossi – Photo courtesy of Andy Jossi
By Deborah Sexton
For Andy Jossi, founder of The Churchhill Garden, a shoegaze/dream pop band from Lucerne, Switzerland, making music has never been about money or becoming famous. It has always been, and always will be, about the pure pleasure he derives from playing his instruments, experimenting in his home studio, and the satisfaction of writing a song that someone else enjoys.
He first started writing songs around 2008 using a tool called GarageBand, which at that time was a free Simple music program that came with the Mac operating system. These early songs were uploaded to My Space. "At that time, I was just experimenting and doing it for fun," says Jossi.
By 2011, with several years of practice under his belt, he graduated to putting finished pieces on Soundcloud where he could share with friends and get feedback. "At this time, I began to get more serious and really consider the idea that I could be a songwriter and not only a musician."
Like many fledging songwriters, Jossi struggled with the fundamental question of, "Am I good enough?" Combine that with his naturally shy and introverted personality and his tendency toward perfection, and you had someone who was constantly faced with the conundrum of wanting to write and share music, but wondering if he should.
In addition to self-doubts, Jossi did not want to put any pressure on himself, which would only take away from the joy of creating. He didn't want to feel like he had to meet any expectations, and he really wasn't concerned if he ever made a dime from a single song.
But once he took that initial plunge, he started getting positive feedback. These comments gave him confidence that his music was good enough and worthy of sharing with the world.
"My first reactions came from My Space, and I noticed that there were people who liked my songs," he says. "Later in 2011, I discovered an alternative radio station in Munich that had listed "Beading Be, You Still" as one of the best songs of the year. Also around that time another German radio station started playing my unmastered songs."
The Soundcloud song that initially captured the most attention was "Noisy Butterfly". Jossi had written the music and Damiano Rosetti wrote the lyrics and did vocals. Rosetti is a musician from Rome, Italy, who has a project called Opera Classes, as well as the Cure Project, which is comprised of solely Cure cover songs.
This collaboration was the beginning of many that would allow Jossi to focus on what he loved best, writing the music and playing all the instruments while leaving singing, melodies and lyrics to other artists he admired.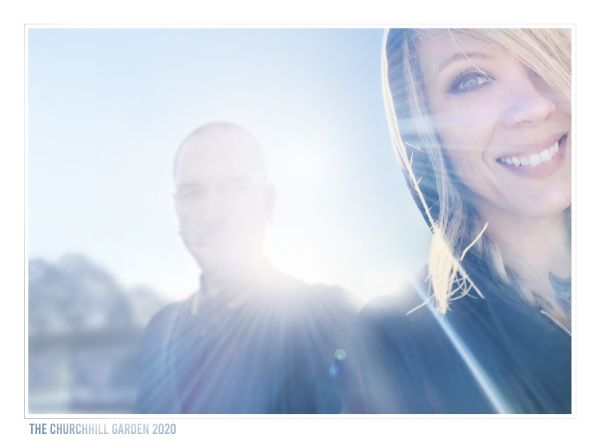 While Jossi has written some beautiful instrumentals, when he wanted lyrics and singing, he had to recruit other artists for help. However, in Krissy Vanderwoude, Whimsical, he found a musical soulmate. She has been a permanent member of The Churchhill Garden since 2018.
Over the years he invited a variety of diverse artists to contribute vocals and lyrics including Eva Tresch and Max Bürki (both local artists), Craig Douglas of Omega Vague, Blush Response, Ben Aylward (formerly of Swirl), Hideka (Japanese solo artist), Demi Hayes of Seashine and finally Krissy Vanderwoude of Whimsical, who in 2018 became a permanent member of The Churchhill Garden.
Starting in 2014, Jossi created a Churchhill Garden page in Bandcamp and here he put all of his better produced and mastered songs. To date he has 23 singles all available at "name your price." He is always grateful for those who value his music enough to contribute money, but it's important to him that everyone have access. Any funds he acquires go straight back into his music, whether it's buying equipment or paying to have songs mastered.
Jossi estimates he has about 75 total Churchhill Garden songs at the moment. This does not include songs he's done for other projects.
As his collection grew on Bandcamp, he continued his pattern of releasing one song at a time. While not planned, this became a source of frustration for fans who wanted to listen to everything at once. The way Bandcamp is set up, if music is uploaded as an album, whether EP or LP, it will play all the songs in that collection. But when set up as a single, at the end of the song, the listener has to choose another song to listen to.
Consequently, Jossi began to get requests to bundle songs into an album, and fans starting asking about getting physical copies in the form of vinyl and CDs. Once again, Jossi's humble attitude made him reluctant to consider the expense of pressing vinyl, because who was going to buy it?
"I am vinyl lover myself," he says, "but I never thought I would have my own music pressed. But as I got more and more requests and counted how many people were interested, I started to think that maybe I could sell more than 20 copies."
And so Jossi decided to save money to make an album. One of the first challenges was to choose which ones. "The fact that my songs are often long was limiting how many I could fit. In the end, I decided to make it a double album of 16. Even then, I had to leave off one of my favorite songs, "All Beauty Must Die," and another, "Sweet Dreams" featuring Hideka. But I used my emotions to guide me as to which ones fit together the best."
Once he announced the double record, non-vinyl collectors soon began clamoring for CDs as well. "CDs initially were not in the plan, but when I saw there was interest, I decided to add those as well," he says. "Who knows when I might be able to release my music in physical format in the future so I decided to expand the project."
A photo editor by profession, the musician wanted the packaging for the record and the CD to be as high quality as possible. "I wanted to create artwork that was eye catching, and that would make people stop when they saw it and want to see what it was," he says.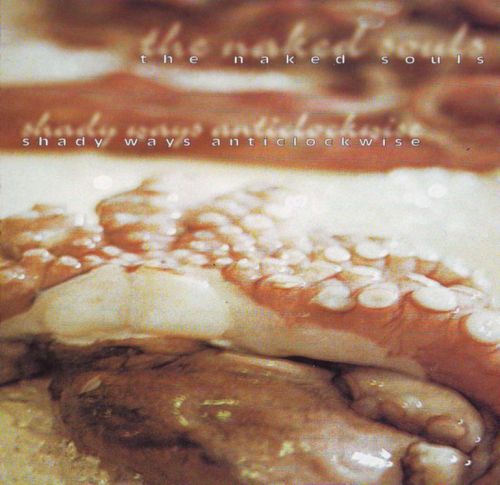 The artwork for "Heart and Soul" was inspired by another album cover Andy Jossi, The Churchhill Garden, had designed in 1995. This album cover was for The Naked Souls' Shady Ways Anticlockwise album. The band was from the Czech Republic.
After changing his mind three times, Jossi finally settled on a pink octopus theme, which was inspired by cover art he had created for Shady Ways Anticlockwise, a 1995 album by a band called The Naked Souls, who were from the Czech Republic. "The album cover is designed as a gatefold with foil-colored inlays. Then it also comes with a booklet, a sticker, a poster of the album cover and an extra sheet with album credits," he notes.
For Jossi, this double album represents his life's work to date. He did not want to do a Kickstarter type campaign so the entire project is being funded by himself. And, in fact, he did not feel comfortable charging the full amount it's costing him to have the vinyl and CDs manufactured. But it's worth it to him to have this release be the best it can be and something he can be proud of.
"It is something I can hold in my hand. It makes me happy to know that people like my music enough to buy a physical copy. All of this music was created in my home. I know production wise this record is not what I consider a high standard, but with every song I learned something new. I love that I can hear improvement in my songs."
"I wanted to create the experience of a picture book of my long journey in music. It's intended to be like a scrapbook you open up from time to time to relive the memories that were created while listening to it."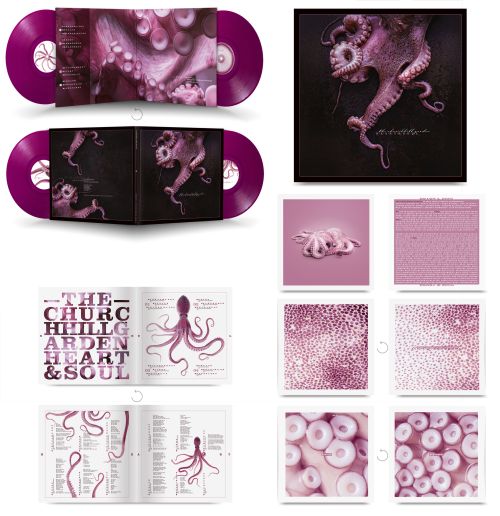 As much time and effort went into the "Heart and Soul" double album cover art as the music itself. As a package for his life's work, Andy Jossi created a multi-piece scrapbook that will be a collector's keepsake for decades to come.
The album's name, Heart and Soul, pretty much sums up Jossi's feelings about this first album. "I spent so much time making this music, and I have built so many friendships from all over the world because of it. Those two words just perfectly express what this project is all about."
If you want a copy of Heart and Soul, only 250 vinyl copies are being made and 200 CDs. These are limited edition and will not be available once sold out. Although the digital version is available on Bandcamp at name your own price, because he is selling at a loss, Jossi is trying to collect as many direct orders as possible before making it available on Bandcamp, which takes a percentage of the sale. So the best way to order is to go to the website where you will see a tab for vinyl and CD Pre-Order
If you want to take a listen, go to Bandcamp. Some music is also on Spotify.