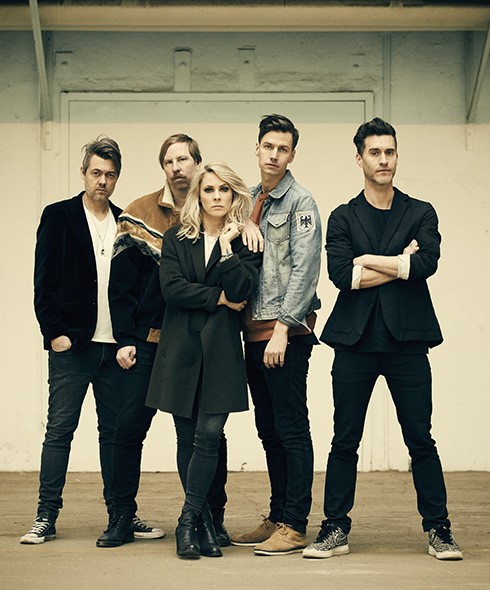 26 May 2020
Poised to celebrate their 20th anniversary with a returning U.S. tour, Swedish indie group The Sounds were forced to cancel amidst the COVID19 outbreak. However, their live stream set in Sweden received overwhelming support and coupled with the June release of Things We Do For Love, the group has returned with new found vigor despite a 7 year hiatus.
"I proud to say that I think we came back strong. I know it's been awhile since the last record in 2013. I'm happy our fans our loyal because we never relied on radio, we relied on touring and with what has been happening it has been difficult. We've played together for so long; I have learned not to argue over childish stuff and just enjoy each other. It can be ok to argue over creativity because we want to write and make music as best as we can," stated guitarist and keyboard player Jesper Anderberg.
The Sounds have long drawn comparisons to Blondie and Missing Persons, thanks to singer Maja Ivarsson's melodic approach and energetic persona. Anderberg feels the group deviates from their peers due to darker lyrical content and his extensive classical training.
"I can see some similarities but I feel it's just a cheap way for journalists to lump groups together, though I respect the comparisons. I began playing classical piano at 6 and it taught me so much because of the skills it demanded. Melodies were of great interest to me and that carried over to my songwriting. I began working with drum sequencers and keyboards at 14. The most beneficial thing of playing piano so young was the knowledge of learning how to play and what it demanded," reflected Anderberg.
He added "When I began my own songwriting I felt it was more fun and I enjoyed the craftsmanship and being the inventor, as opposed to playing something that was already written."
Anderberg lauded music's power and ability to facilitate community, reminding all that it was at local music festivals that he met his future cohorts. He remains the youngest member and stated he was still in school when he first joined The Sounds in 1999.
"We were all at this one festival but I was afraid to approach them. One night, they were drunk and accidentally crashed into my tent! They felt bad and invited me to sleep with them. We didn't meet again until another festival in Copenhagen when they asked me to meet them and then join. They had a drum machine, which I knew how to properly program and I helped them out for a show. I formally joined in 1999," reflected Anderberg.
Three years later The Sounds developed a reputation for strong live performances thanks to their memorable, keyboard driven hooks. Ivarsson's performances were unrivaled within the local circuit and the group was consistently touring. Their 2002 debut, Living In America earned international accolades and propelled them to earning a spot on the Van's Warped Tour. The record was certified platinum a year later. Anderberg reflected on the group's fast rise.
"We were getting a lot of offers which took us by surprise. We would actually write new material while on tour, we were on the road so much. We were like 20 years old, so young and we didn't know exactly how things worked. We were songwriters and never expected much and I think we did get fooled a few times earlier in our career. We were very ambitious and motivated and released an album consistently, toured worldwide and were basically very thankful for it."
The Sounds earned lucrative opening gigs for international groups such as Foo Fighters and No Doubt. They had a strong U.S. following and a very loyal following back in Sweden. Early success never led to any sophomore slump as the group retained its consistent hallmark sound but as tour frequency increased, Anderberg revealed a much-needed break was inevitable.
"Of course a break would be needed, much like anything that involves a lot of traveling and living in close quarters with the same people. We took a break in 2013, some of us had children. Being a father, I think the best thing I learned so far was patience," laughed Anderberg.
While apart, The Sounds learned that creativity required individual strength and discipline, and each member adjusted accordingly. Things We Do For Love offers a more measured approach yet the group retains its energy and pop sensibilities.
"It's interesting to me because the title song is actually a few years old! The album has undergone a lot of different writing processes. I think everyone has been writing more together, overall more equally than before. Of course, things are harder because we all have different time commitments but we learned to work harder, just individually at times. We were really looking forward to touring again but that is not possible right now with what is going in the world," sighed Anderberg.
Communities continue struggling with ongoing stay-at-home measures designed to limit social gatherings, with the ultimate intent to slow the spread of COVID19. Businesses and the creative arts continue to suffer despite some restrictions being slowly lifted but phrases such as 'return to normalcy' raise more questions than answers. Anderberg stated The Sounds were obviously disappointed that their tour was cancelled but utilized technology to offer fans a free, online concert. The group presented their new material and hoped for the best, as technology is not always reliable.
"We wanted to support our local club, The KB, in Malmö Sweden. They were really good to us and allowed us to broadcast the live stream concert. Sweden is not as restrictive as other parts of the world. We have recommendations, not restrictions. We're not allowed to have gatherings of more than 50 people, we work to keep the elderly population separate, and all schools and universities are closed. I am happy that we, as a whole society are learning new ways to express feelings to each other and using technology as best as we can to communicate with loved ones."
As The Sounds await further developments with the hopes of all restrictions being lifted, Anderberg stated he believes the group will return to consistently recording and touring.
"That is a long term goal, for sure. We love songwriting and playing for our fans and I think that steadily recording will happen, not like we did 15 years ago but I don't see us taking seven years between albums," laughed Anderberg.
https://www.facebook.com/thesounds
https://thesoundstour.com