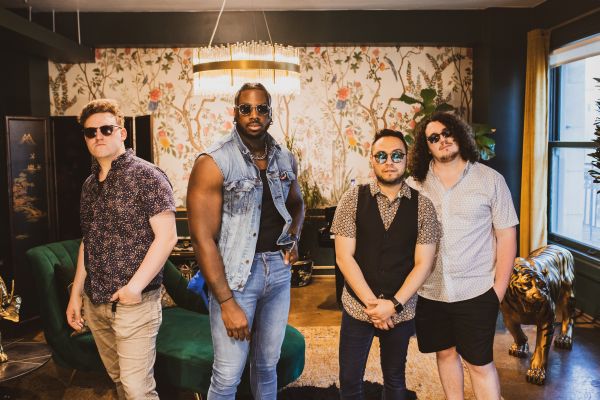 22 June 2021
The Fey – Photo Credit: Jessica Addleman
Genre bending and blending is commonplace in today's music, but few do it as smoothly as the Nebraska-based group The Fey.
Self-proclaimed as "alternative R&B", the band also bring in elements of blues, soul, reggae, electronic, and more. All of the above is clearly displayed on their recently released album Palm Tree Shade.
The LP kicks off with the electronic-infused instrumental "The Arrival (Intro)," giving the listener a mere sample of what's yet to come. Followed by "Tear It Off," this track takes the vibe of mid-2010s The Weeknd with a Muse-like arrangement with plenty of soul to give it "The Fey treatment."
Another highlight on the album is "Free (Say What You Want)," a heavy soul composition driven by an infectious reggae groove with sampling that's dimension-bending. This is an ideal track for someone's Friday/Saturday night soundtrack when out on the town or driving towards the sunset.
Can't continue detailing this album without mentioning the neo-blues track "Go," as well as "Back Home to You," which seamlessly weaves layers of '80s and modern synths and memorable guitar leads.
The record concludes with "The Departure (Outro)," an electronic dreamscape bringing closure to the album while possibly foreshadowing what's to come from the group. This is an act who knows how to experiment with sound while keeping any type of music listener interested and engaged.
Given the band members' backgrounds in Berklee College of Music studies and other formal musical instruction, The Fey are truly capable of playing whatever genre they'd like. In a musical landscape where it seems like all has been said and done, the Nebraska quartet challenges that by giving "a little something for everyone" on their latest release.
Palm Tree Shade is available on all major streaming platforms. For more information and updates on The Fey, please visit their WEBSITE
Zach Watkins, the main man behind The Fey, generously goes into detail about the new album; its themes and inspirations, and also what's coming up for the band.
There are a lot of references to California and LA throughout the record; it's obviously one of the main themes. What is the significance of those locations, and what other concepts flow through the album?
"Yeah. This album is hugely inspired and influenced by the city of Los Angeles. I wouldn't call Palm Tree Shade a "concept," but it's definitely a collection of stories, sounds, and styles all expressed through the culture of L.A. Over the last 3-4 years, I've became highly addicted to the L.A. lifestyle, which in turn really just solidifies my infatuation with entertainment night life in general. There's an out-of-mind type high one acquires when he or she is in the midst of spirits, bright lights, and pretty people. But naturally, gravity takes control and the higher you are the harder you far. Metaphorically, that's the theme behind Palm Tree Shade."
How was the LP produced? What was the recording process like?
"Aside from 2-3 tracks, the majority of these records were composed and produced right from the comfort of my own home. Honestly, I locked in with 4 simple tools: a MicroKorg, a 1983 Casio MT-68, a Korg SV-1, and a library of drum kits/samples and synth VST's. As soon as I nailed in a strong foundation for a song, I'd bring in my lead guitarist for a few sessions. After that, it's usually back to isolation for completion. Most of these records took a little over a year before I submitted them over to our mixing engineer. From there we tracked vocals, then spent close to another year mixing and finalizing production. It was a hell of a journey, but it's so worth it knowing we created this work of art with our own bare hands."
There's a great mix of synths and guitar throughout the album; it's a seamless mix of the organic and digital. How do you feel like these two elements work together in your sound?
"For sure. Blending bluesy-rock guitars, with big leading synthesizers is a style/sound we use to really brand The Fey. We're known to hold true to those timeless, nostalgic styles of music. With this album being a derivative of some of the '80s/'90s most prominent artists, we knew we had to create those same epic vibes by spotlighting the two throughout the entire album. As a band, rock-soul oozes from this group of musicians pretty naturally. This album was created to stretch those walls of rock-soul a bit, and incorporate a lot of hip-hop, pop, and R&B as well…. Guitar and synth together really helps create the "future nostalgia" of The Fey."
Are you influenced by '90s R&B? There seem to be some classic motifs throughout the record.
"Of course! Hip-hop as well. Born in '85, raised through the '90s. My older siblings drove me deep through that decades bangers: TLC, Aaliyah, D'Angelo, PAC, Biggie, etc. etc. Its crazy, cause as much as I present this album alongside '80s recollection, there's a lot of '90s elements that naturally and uncontrollably seeped into this album."
Do you have plans to play shows later this year?
"For sure. We're excited to get back on the road again this summer. It's been way too long, and COVID had us on our heels. But we're back, putting together some road runs from June through October 2021, more so regionally as of now: Kansas City, Lawrence, Omaha, OKC, Austin, Des Moines, Denver, Tulsa, and more to come. We do have plans to head back West, and can't wait till we can announce more of that here soon."
Is there anything else you'd like to tell us about the album in particular?
"First off, thank you for your interest and connecting with us. [It] means a lot. There's a lot more to come from The Fey soon… We hope you all stick around. Thanks for listening. Peace."