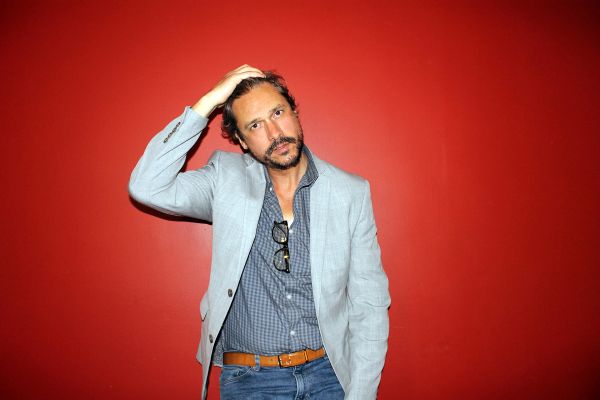 17 June 2021
Ryan Horns of Paper Airplane – Photo Credit: Ryan Horns
Columbus, Ohio-located garage pop band Paper Airplane, which is helmed by singer-songwriter Ryan Horns, recently released a poignant new single, "Olivia Midnight," in tribute to the dearly departed daughter of our very own writer, Chip Midnight.
The purpose of the song is to show support for Horns' friend, Chip Midnight, to honor his beloved daughter, Olivia Midnight, and to channel all sales of the track to the Liv Midnight Memorial Scholarship.
This scholarship fund annually gives a donation to a student who is passionate about the arts. More information about this scholarship can be found below.
Ryan Horns, as Paper Airplane, set his path on creating powerfully melodic, lyrical, and vocals-based rock 'n roll/garage pop that spins off in different sonic directions. Gentle indie pop often turns into something more experimental and gritty – sometimes within the same song. The creative point for Horns is the meticulous craft of song-writing.
A longtime breaking news, community, and crime journalist, Horns opens up a lyrical world of suburban intrigue that's often based upon experiences and stories that he's profiled over his award-winning career.
Paper Airplane has released four LPs, including critics' favorite Middlemarch (All Hail Records, 2007), White Elephants (self-released, 2009), and Who You Know (We Want Action, 2010) before the Great Recession hit Ohio hard and band members dispersed. Paper Airplane returned in 2018 and released their double-album OTHELLO in 2019 (Scioto Records).
And now Paper Airplane returns with this special tribute single. Ryan Horns reveals details about his link to Chip and Liv, and his need to record "Olivia Midnight" in honor of Liv:
"What I love about music and art is how it immediately becomes immortal. When Chip Midnight's daughter Liv died in 2018, I felt an extreme amount of sadness for him and his family. I finally decided to write a song for her to help, at least me, deal with it. Besides, her name is Olivia Midnight – that's just begging for a rock song. Also, what's more rock and roll than Thin Lizzy twin guitars?"
"When Liv died, Chip said there was a huge rainbow in the sky that day, so I knew I needed to mention that. The song also needed a point, but there's nothing positive about death, especially the death of a daughter. I finally realized nothing can take away what they shared for 17 years. In that case, perhaps a world that never even knew her would be even worse."
"I recorded the song at home in 2019 and booked a recording session in March 2020… and the pandemic hit. Paper Airplane bandmates Keith Jenkins (guitar) and Rob Cave (keyboards) started emailing me their parts and we pieced the song together into a mix. I booked a Secret Studio session day in February and brought in only one person for each half of the day to record. Dan Bandman laid down the live drums and Brian Larcey added bass parts."
"The final song was mixed by Keith Hanlon and mastered by Cauliflower Audio. Enjoy our song and help celebrate the brief but impactful life of Liv Midnight by donating to present an annual scholarship of $500 to a student who shares her love of art and compassion."
All sales of the single go to the Liv Midnight Memorial Scholarship at "at" worthingtonschools.
PAPER AIRPLANE
Facebook
Instagram