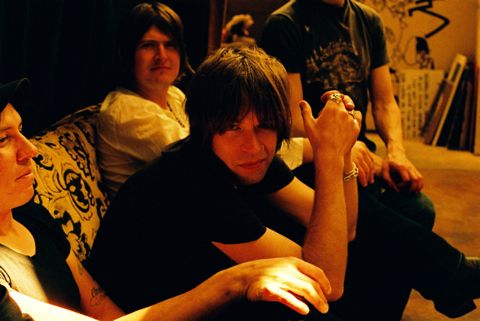 26 October 2010
Pete International Airport is the solo project of The Dandy Warhols guitarist Peter Holmström. Taking the name from a song title on The Dandy Warhols Come Down, the music that he and his band mates make—which includes vocalist Jsun Adams from The Upsidedown, drummer Jason "Plucky" Anchondo from Spindrift, and bassist Collin Hegna, from The Brian Jonestown Massacre.—recalls the sound of his early, formative The Dandy Warhols Rule OK? years.
It's not coincidental. Considering the Dandy Warhols' nearly two decade career, it's natural for a band's members to want to get back to the sounds of their early years. "I have wanted to "get back" for quite a while," Holmström says. "Mainly just with the amount of time spent on the recording, not the end result."
Of course, when your band takes a long time between records, it's natural for a band member to feel a need for a creative outlet. "It always takes the Dandys around three years to make a record.  As far as the Pete International Airport songs go, they were ideas that I'd had for years and had never completed.  I knew I was going to do a solo record of some sort.  I thought it was going to be less song-structured and more pure noise, but most of the songs had verse/chorus-like changes, so I asked Jasun Adams to be involved and within a year we had a finished record."
Nor does Holmström feel that what he's doing with Pete International Airport is necessarily different from the Dandys. "The only difference my song writing has from the Dandys is that I had to finish every detail instead of coming up with a guitar part/chords and then let everyone else do their thing, which is why my record took so long to finish. I waited for other people to finish it for me.  In the past I would play my guitar parts in rehearsals and if Courtney (Taylor-Taylor) liked them, they would turn into Dandys songs."
The Dandy Warhols' music has increasingly possessed a nuanced, well-crafted pop sheen, but the songs on Pete International Airport, such as the free-association sounding "Beatle Boots and Battle Scars" and the Jesus and Mary Chain like "Idioms for Dummies," feel spontaneous and raw—as if someone simply pressed the record button during a rather heavy jam session.
Pete International Airport's ramshackle feel doesn't mean that the process was as spontaneous as it seems. "It was anything but spontaneous.  Essentially all the music was done in my basement over a period of two years. I then took it into The Odditorium (the Dandy Warhols' creative fortress) and recorded drums and piano.  Then, over the next year, Jsun and I turned them into what you are listening to now.  During this time I was also touring and recording with the Dandys, so thats why it took so long to come together, not because I procrastinate."
All in all, though, Pete International Airport provides a nice side-trip for fans of the Dandy Warhols. "I find that working outside of the band brings me a much needed breath of fresh air.  I have a role to play in the Dandys and it's very easy for that to turn into a rut." For now, though, he will be taking a break from his break-taking band, touring the US with The Dandy Warhols, in support of the band's recent greatest-hits release, The Dandy Warhols: The Capitol Years 1995-2007. Still, though, he's rather sanguine about his solo project.
"I was just trying to create sounds that made me happy," Holmström reflects.
Photo: Destiny Dawson