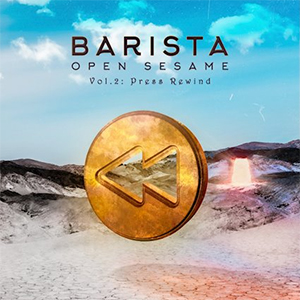 29 July 2021
Istanbul's BARISTA aka the project of Bahadır Han Eryılmaz is back with the second installment of his sprawling five volume album Open Sesame. Although this EP, titled Press Rewind, is undeniably related to its predecessor, the style and mood is of an altogether different nature, as if the title suggests a more retro sound. Think California soft rock like Seals and Crofts or the Eagles, and you have an idea of the music here; although Han Eryilmaz still leans just enough on a harder classic rock sound to give the songs an extra bite that prevents predictability.
Looks, or sounds, can be deceiving, however, because there is nothing here that suggests the superficiality of yacht rock. "Haze" is a love song, but like the best love songs of Bruce Springsteen it is tempered with the harsh reality of life, and although the YOLO anthem "Apology" would be the perfect soundtrack for scenes of a racing speed boat on an episode of Miami Vice, the lyrics are closer to an attempt to escape from monotony to an idealized fantasy rather than an encapsulation of the fantasy itself.
Press Rewind provides Han's best songwriting yet, and BARISTA is clearly delivering on the rewards promised by such an ambitious project. Rather than padded with filler, the immense album is proving to be made with meticulous care and attention.