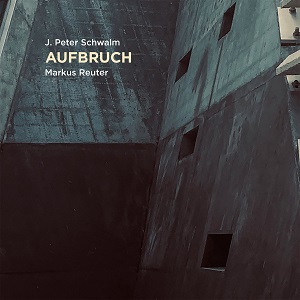 29 July 2021
A joint effort from two musicians equally comfortable with organic and synthetic sources of sound, Aufbruch feels like the perfect soundtrack for the Pandemic Years. Electronics guru and drummer J. Peter Schwalm and touch guitarist Markus Reuter took a series of improvisations and edited them down to final forms that are at once harrowing and hopeful.
Deep bass throbs support spacy guitar shimmers on "Von Anbeginn," as burbling synth licks and bursts of something unidentifiable (fingernails across guitar strings, perhaps?) add swathes of burnt color; the overall effect feels like something struggling to free itself from a shroud. The minor key and booming percussion of "Abbau," guest vocalist Sophie Tassignon's wordless sighs in the ghostly "Losgelost*, and the thrumming distortion of "Der Aufbruch" contribute to the atmosphere of paranoia and dread, as befitting a year of lockdown in the face of a global pandemic whose treatments remain in pitched battle with power-hungry politicians.
The lush "Ein Riss" may be set on edge by random synth blips, but Reuter's sustained guitar lines and Schwalm's shimmering backing pull light into the darkness. The major chord progression of "Ruckzug" definitely implies a sense of uplift, while Tassignon's moans bring hope to the sparkling guitar ambience of "Lebewohl." "Abschied," the set-closing sheath of drawn-out melody, digs up strains of beautiful hope out of the scorched earth, suggesting that all may yet be well.
The tension-filled "Der lange Weg" pits pretty sounds against ambient noise for an enigmatic piece that suggests uncertainty, like someone who doesn't know what to believe during these trying times. The suggestion of no easy answers has powered a lot of art in the past year and a half, and Schwalm and Reuter use that feeling to make striking, evocative music on Aufbruch.