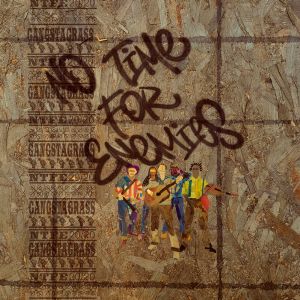 11 October 2020
Acclaimed Brooklyn bluegrass/hip-hop trailblazers Gangstagrass take a stand on their latest socio-politically relevant album, asking our communities to come together to promote unity and positive change in the world.
Launched by producer/singer-songwriter Rench (vocals, guitar, beats), the outfit is also consists of R-SON the Voice of Reason (vocals), Dolio the Sleuth (vocals), Dan Whitener (banjo, vocals), and Brian Farrow (fiddle, vocals).
Trenchant and mindful lyrics rail against our divided times and peoples (now and throughout history), while the upbeat music provides a refreshing tonic to the serious subject matter.
Brisk bluegrass pluck co-exists harmoniously with urban hip-hop drop, as jaunty, fast-picked banjo notes, sweetly scraped violin strings, fat thumping beats, and quicksilver spoken word raps with vibrantly poetic lyrics create a joyful euphoria.