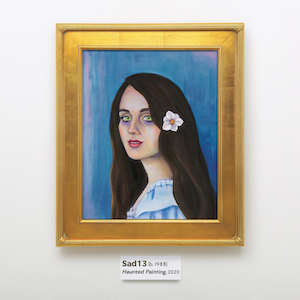 2 October 2020
Sadie Dupuis has a couple of distinct outlets for her luminous music, dividing time between leading the crunchy guitar band Speedy Ortiz and the solo project Sad13, which inclines to synths and sleeker textures. On Haunted Painting, her second full-length effort under the Sad13 banner, she deftly splits the difference between the two approaches, to intoxicating effect.
Whatever the format, Dupuis has long excelled at taking seemingly straightforward pop songs and twisting them into tantalizing new shapes without dimming their shiny allure. Like a Top 40 playlist devised by a mad scientist, Haunted Painting ping-pongs from one style to the next, as her sweet, reassuring voice stitches divergent sounds into a compelling whole. Framed by bristling guitars, "Market Hotel" calls out indie-scene sexism, recounting, "We've met three or more times before. His face is blank: 'Can I borrow your amp?' But he asks it to my boyfriend like I'm not in the band." Shades of Devo, bubbling electro-noise powers "Ghost (of a Good Time)," celebrating the fine art of staying home. The beautiful "Take Care" wraps empathy in elegant strings, sighing, "I'm ready to feel your pain," while the exuberant toe-tapper "Hysterical" says the opposite, exclaiming, "I wanna see you disappear and laugh like I don't need permission."
If the literal meaning of Dupuis' artful lyrics – she's a practicing poet, too – is often elusive, that only adds to the attractive richness of Haunted Painting. Sophisticated yet fun, complex yet instantly accessible, this is a smart, spooky-good time.