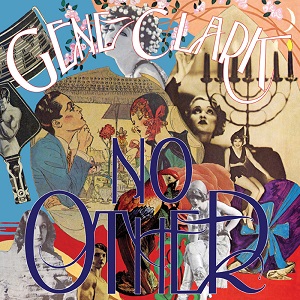 7 January 2020
At the tail end of the sixties, the folk-rock psychedelic stalwarts The Byrds slowly started to diminish. With David Crosby jumping ship in '67 to become a third of the CS&N supergroup. In '68 new recruit Gram Parsons along with Chris Hillman left and formed the country rock zeitgeist The Flying Burrito Brothers. However, while the music world watched these ex-Byrds take flight, it was the first man that sought freedom from the outfit that left a greater mark than any other, the late Gene Clark (November 17, 1944-May 24, 1991). 
In some respects Gene was the soul and creative machine of the original Byrds incarnation. After all, the Dylan covers aside, it was he who penned their best-known original tracks -including "I'll Feel a Whole Lot Better", "She Don't Care About Time", "Eight Miles High" and "Set You Free This Time". So the writing was on the wall so to speak regarding what was to come from this troubadour, and he did not disappoint. His first effort Gene Clark with the Gosdin Brothers established him as a singer-songwriter on his own standing although not a commercial success. 
Further releases followed with Doug Dillard collaborations, but it was in 1971, when Gene released his second solo album, that both the rock community and media really began to pay attention. White Light is one of the greatest solo albums of the early seventies, it goes above and beyond anything produced in the then-popular folk-country-rock scene. It proves how Gene Clark was not only the songwriting architect of the Byrds, but the one who cast the blueprint for seventies rock. What Gram Parsons had dreamt of doing, Gene was nailing it with every syllable falling from his lips. When it came to following up such a monumental, but again slow selling release, label A&M issued Roadmaster in 1973 as a stop-gap release. It contains unreleased studio sessions featuring reassembled Byrds, Burrito Brothers and various other recordings from 1970 to 1972, his next solo effort would come the following year. 
A lost masterpiece is a tag given to those rare, unavailable works, and sometimes it is hard to really justify calling something lost if it were released but never sold. In the case of Clark's No Other the tag is not only justified but thoroughly proven. Released in September 1974, No Other was hammered by everyone- critics, the record company, even the record label lost their minds with disappointment. So much so, two years later, Asylum Records deleted the album from existence. It is stated that part of the reason sat on the cost, over half-a-million (2018 conversion) for eight tracks. 
What effect that had on Clark can only have been psychology damaging, not only to his confidence, but to his belief in his own creativity. It is unfortunate then that the man never lived to see the comeback No Other made in the early part of this century. Reissued in August 2003 by Warner Records, No Other hit the streets again and gained the attention it so rightly deserved. Expanded from its original eight to a strong fifteen tracks (with alternate takes), critics salivated over the genius within the sound, scope and talent that projected from the compact disc. 
So, what is so special about this recording that it took 30-years to get appreciated?
Quite simply it is unlike anything else recorded in the seventies. Forget about the songwriting, or folk angle when approaching No Other as it goes beyond those categories. Instead, the album, and Clark blended folk with gospel, rhythm and blues, soul, country rock, glam rock, and even jazz. This was a monumental outing, perhaps a stretch too far to be understood on its first time out. No Other holds the type of depth usually reserved for releases by full bands, it sounds anything but a solo release. The visionary sound acts as a soundtrack, if not a time capsule to the early seventies Los Angeles lifestyle, an adventure through the counterculture looking glass, with more honesty than anyone could project at the time. 
Late in 2019, 45-years after its original release No Other returned again. This time via 4AD, the album is expanded beyond belief with SACD versions, along with vinyl, Blu-ray and 5.1 stereo mixes. All this with the justified eighty-page hardback book along with a 'making of' documentary. This is for longtime lovers of No Other, those who know of its beauty and worship it. For the novice to this classic, and the take-it-or-leave it fans there is the double CD, single CD and single vinyl versions. Whichever category you fit into, you will rediscover (discover) the very definition of masterpiece, which is thankfully anything but lost. 

Super Deluxe Tracklist; 
SACD
1: No Other (Remastered) + 5.1 surround mix
1. Life's Greatest Fool
2. Silver Raven
3. No Other
4. Strength Of Strings
5. From A Silver Phial
6. Some Misunderstanding
7. The True One
8. Lady Of The North
SACD 2: No Other (Sessions 1)
1. From A Silver Phial (Version 4)
2. Silver Raven (Version 2)
3. Some Misunderstanding (Version 3)
4. Life's Greatest Fool (Version 2)
5. Train Leaves Here This Morning (Version 2)
6. Lady Of The North (Version 2)
7. The True One (Version 2)
8. Strength Of Strings (Version 2)
9. No Other (Version 2)
SACD 3: No Other (Sessions 2)
1. From A Silver Phial (Version 1)
2. Life's Greatest Fool (Version 1)
3. No Other (Version 1)
4. Lady Of The North (Version 1)
5. Some Misunderstanding (Version 1)
6. Silver Raven (Version 1)
7. Train Leaves Here This Morning (Version 1)
8. The True One (Version 1)
9. Strength Of Strings (Version 1)
10. Life's Greatest Fool (Single Version)
11. Silver Raven (Single Edit)
Exclusive 7"
A. Life's Greatest Fool (Single Version)
AA. Train Leaves Here This Morning (Version 1)
Blu-ray
Documentary: The Byrd Who Flew Alone: The Making of No Other by Paul Kendall
No Other (Alternate Audio Versions)
No Other (HD Audio Remaster)
No Other (5.1 Surround Mix)
No Other (1974 Vinyl Master)
No Other (2019 Stereo Remix)
80 Page Hardbound Book
Extensive Liner Notes
Lyrics
Previously Unpublished Photographs
Essays by Andrew Perry, Jon Einarson, Johnny Rogan, Martin Aston & Sid Griffin

Website