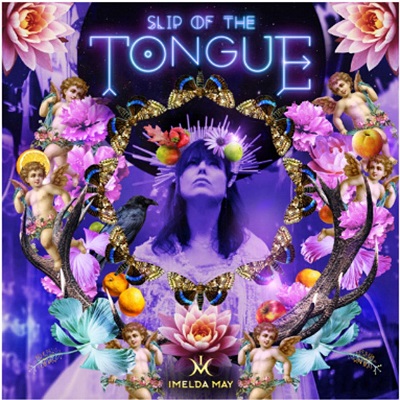 20 October 2020
"I've lived every word I write.." -'Roses' 
This is a reflective piece of work. Irish rockabilly songstress, turned soulful realist Imelda May has released an Ep which is planted in humanity, and set to an uplifting, dramatic soundscape. Slip Of The Tongue delves deeper into the prowess of the singer-songwriter, and displays a technique which like the singer herself has evolved. It has been a productive seventeen years since No Turning Back, and although the quiff may have gone, Imelda's skill for projecting and executing every syllable has not. 
This however is not a singalong, danceable piece of work. Slip Of The Tongue takes another direction, and a refreshing one at that. Earlier this year in June, at the height of the 2020 BLM movement, Imelda released a poem "You Don't Get To Be Racist And Irish". Although this made the lady a target for the uneducated dregs of society, those of us who open a book will know the importance of those words. It showed a fearlessness in her conviction, and Slip Of The Tongue is an extension of those fearless advances. It perhaps no surprise from a country that produced Yeats, Beckett and Joyce that poetry, and the power of words themselves, regardless of what setting they are used is still an important factor in Irish music, Fontaines D.C are a testament to that. 

For those who loved Imelda's previous, the
T-Bone Burnett
produced 
Life Love Flesh Blood
(2017), they will still feel a connection to this work. The Ep begins with "Home", a narrative which holds everyday observations of love, the quest to understand the emotion fully. Following with the clever wordplay of "
GBH
", tethering between tongue-in-cheek double entrees flow effortlessly to a backing of lush strings. The Ep spirals through an almost conceptual framework, giving the listener a cinematic imagery. With "Elephant" you feel drawn in fully to her world, as the prose is unstoppable, human and sublime.
The midpoint "Becoming" examines the nature of feminism. In particular, how Imelda May views herself, not just defined as a woman. Backed by vocal acrobatics that segue into "Liberty Belle", a harsh five into the realities of life, from drugs, and a rise up from the gutter. A harsh, semi-biographical piece of work that only finds solstice when "Roses" erupts with it's sweetness. The distorted backdrop to "The Word Is Out" gives a punk-styled attitude to proceedings. A venomous flurry of defiance, which makes you feel for the ex-lover this is directed at. 
With the sound of bird song, "Stay" is the yin to the yang of "The Word Is Out". Is lovelorn and not love damaged. An obvious nostalgia echoes in every word, a missing, a longing for normality. All this surging to "Stargazer", and the finale of a journey, an exorcism of emotion which pulls the audience in, providing an escapism into someone else's reality. But this is a portrayal of art, and like a painting it can be revisited, where a different aspect appears and surprises you. 
Tracklist: 
1.Home     
2.GBH     
3.Elephant     
4.Becoming     
5.Liberty Belle     
6.Roses     
7.The Word Is Out     
8.Stay     
9.Stargazer
For more info:
Website
Facebook
Twitter