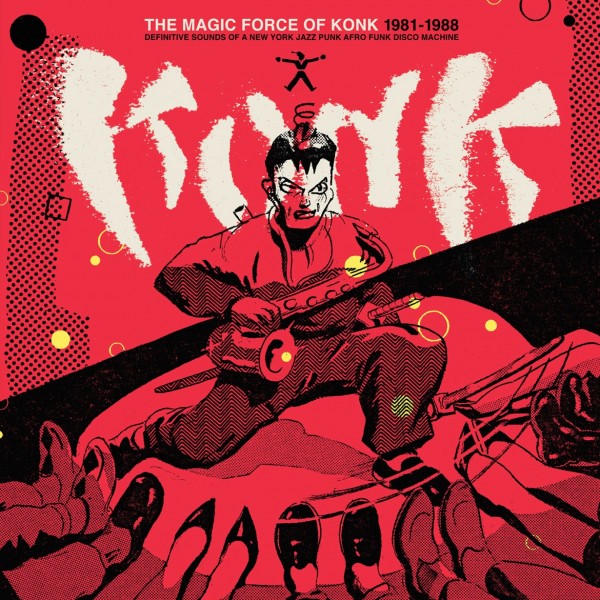 15 August 2019
Every once in a while a nostalgic release comes along at the right time, a reminder of the fearless advances made at the start of the eighties. One of those releases is by the effervescent, New York based Konk and the upcoming triple vinyl The Magic Force Of Konk 1981-1988. 
Those unfamiliar with this band are in for adventure, those who know them already are in for a reminder of their unique greatness. Formed in 1980 from the wreckage of punk, Konk took a twist on the current sounds of the day. Combining the foundations of post-punk and new wave, but layering it with funk tones, jazz and disco all under the pounding rhythm of afro-beats. This made the band stand out, but also appeal to more than just one audience or genre. In part down to avant-garde performer Dana Vlcek whose work into the area of fusion became central to the execution of the Konk sound. 
With all these genres in a melting pot the sound built into a carefree, inspired vibration which injected itself into a scene which was constantly trying to reinvent and label itself. From the very first release, the "Soka Loka Moki" single, it was clear this was something built to last. The part-instrumental opened with a free-jazz sound which shifted into a heavy bass and disco vibe experimentation. The afro framework came unexpectedly, but worked wonderfully. Galvanized further by other such releases as "Konk Party" and the number five dance chart hit from 1984 "Your Life". 
Although disbanding in 1988 just as their album Jams was released, their influence is still being referenced and revered. Mentioned recently in a David Byrne book surrounding the important factors of influence from back in the day, which points to Konk's longevity thirty-one years after their existence. Which is why thankfully Futurismo are releasing this set to the public on October 4th, although already available for preorder.
Three delectable coloured vinyl records, (transparent red with black marble splatter, solid bright yellow and classic black) housed in a wide spined gloss laminated sleeve. Along with the music comes, it also contains a twelve-page book featuring photos, flyers, and liners by journalist Ezra Gale though you also get a download of the music which is the real winner. 
It features, alongside all the original studio recordings by the band, are live tracks from CBGB's plus a disk of DJ mixers, which can be used to mix alongside the original versions of "Your Life"' and "Konk Party". The live tracks from 1981 are the perfect time capsule to experience this band. Although live they were at home splicing the grime of CBGB's or even soaking in the glitter of the Danceteria.
These live tracks are incredible, the quality is excellent as Konk breath Latin infused fire on stage. Highlighting perfectly a band at the height of their creativity. Where I can be skeptical when it comes to live recordings, there is certainly no overdubs or dips in the recording. 
The Magic Force Of Konk is exactly that, perfect for those who like to venture under the New York skyline of the early eighties, and for fans, it is everything in one beautiful package. 
Complete Track List:
DISK 1 / Side A: 1. Konk Party (7 Inch) / 2. Baby Dee / 3. Soka Loka Moki / 4. Honeymoon. 
Side B: 1. Your Life (7 Inch) / 2. Elephant / 3. Cool Out Gar (Third Stone From The Sun) / 4. Suave Y Caliente.
DISK 2 / Side C: 1. Love Attack / 2. Machine / 3. Alien Jam / 4. Soka-Loka-Moki (7 Inch Part I) / 5. Soka-Loka-Moki (7 Inch Part II). 
Side D: 1. Tonton Macoute (Live at CBGB 81) / 2. Alamo (Live at CBGB 81) / 3. High On The Hill (Live at CBGB 81) / 4. Fela (Live at CBGB 81) / 5. Frog Talk (Live Broadcast to Paris).
DISK 3 / Side E: 1.Konk Party (Uptown Breakdown) / 2.Konk Party (Master Cylinder Jam) / 3.Konk Party (Bonus Beats). 
Side F: 1.Your Life (12 Inch) / 2.Your Life (Skull Whip) / 3.Your Life (What U Want Dub).
To Pre-Order;
Website
Facebook