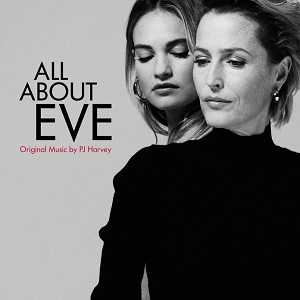 22 October 2019
The elusive dominance of Polly Jean Harvey continues to enthrall audiences. Following on from her acclaimed music for the  All About Eve stage production. A play directed by Ivo Van Hove and starring Lily James and Gillian Anderson with Polly Jean providing the sublime soundtrack (released last April) which spun from the set. However, audiences are given a second bite of her artistic prowess in the All About Eve Ep of bonus track demos which has now surfaced. It is a haunting projection of the album's finest moments stripped bare to their very essence. Released in conjunction with the full album issue on vinyl, this is a fine extension in every glistening groove. 
Three tracks, one magnificent intention, "The Sandman", a demo of the original album release is a baroque styled number, one part Kate Bush, one part Siouxsie Sioux, and wholly Harvey. A lesson on vocal presentation with enough emotive power injected into it to leave the present cast of pretenders to shame. 
Indeed "The Moth" in demo form continues the subversive collection under flourishes of piano keys, beautifully inspired and hammering with a subtle urgency that is hypnotic and ghostly. The fact PJ Harvey is not only making some of her best music now, but her voice is astounding, void of guitar cranks and soaring in its naked presentation. 
The third and final piece, an instrumental passage of "The Sandman" with a mix by Tom Gibbons is interesting but not as rewarding as the two that came before. Though the demos are another dimension than the album inclusions, with an effervescent rawness which is undeniably enjoyable. Proving how since 1992's Dry Harvey has lost none of her impact or lost any sense of her first mission statement, to deliver music that stirs reactions from the unique shell from which she exists. 
Tracklist 
1.The Sandman Demo 
2.The Moth Demo 
3.The Sandman – Tom Gibbons Mix