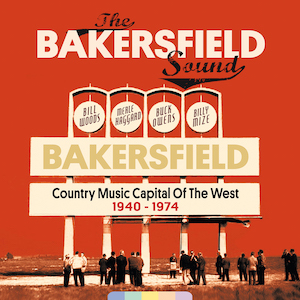 21 October 2019
Anyone who cares about country music already knows Buck Owens and Merle Haggard, the superstars generally considered to epitomize the sound that emanated from Bakersfield in its heyday. Located about a hundred miles north of Los Angeles, the city spawned the music of those two greats, among a host of others, and for a time loomed as Nashville's biggest competitor.
Collecting almost 300 tracks on ten CDs, the amazing box set The Bakersfield Sound 1940-1974 is a staggering achievement by Scott B. Bomar and his supporting team. This ambitious archaeological triumph chronicles the work of everyone from high-profile hitmakers to vanity-label nobodies who had more optimism than talent. In the process, it shows that the driving honky tonk of Owens and Haggard was just part of the story. The Bakersfield sound could also mean raw field recordings, sentimental Nashville-style balladry, exuberant Western swing or even spirited rock'n'roll.
Frenemies whose lives intersected personally as well as professionally – singer Bonnie Owens married Merle after she divorced Buck – Owens and Haggard both boasted crack bands and cranked out hit after hit for Capitol Records, making a mark beyond the confines of the country scene. Heard side by side here, Haggard seems the more substantial artist; songs like "Mama Tried" and "Holding Things Together" have a gritty emotional resonance that transcends genre or era. By contrast, the breezier Owens could almost be a pop-music performer; "Open Up Your Heart" and "Tiger by the Tail" are slicker and catchier than anything Haggard could have devised. While The Beatles covered Buck's "Act Naturally," they would have been hard-pressed to find something from Merle's catalogue to play.
The Bakersfield Sound also spotlights standouts such as Wynn Stewart, Tommy Collins and Red Simpson, as well as artists who had only a passing connection to the area, including Barbara Mandrell, Arlo Guthrie and Wanda Jackson. Among the great players featured are guitarist Don Rich from Owens' Buckaroos, steel guitarist Norm Hamlet from Haggard's Strangers and guitarists Clarence White, later to join The Byrds, and James Burton, of Ricky Nelson and Elvis Presley fame.
Less-celebrated names like Billy Mize, Kay Adams, Gene Moles and Bill Woods, a beloved figure who nurtured the careers of others, also get their due, especially in the massive book accompanying the music. Bomar has provided a detailed bio for every person credited with a recording, however obscure, which is a remarkable accomplishment in itself. The story that emerges in many cases is a tale of failure, but also of resilience in the wake of disappointment: A hopeful unknown gets a chance to make a 45 (or a handful of 45s), but goes nowhere (or draws only brief attention), ultimately finding another role in music or leaving the business altogether.
Celebrating California country in all its rowdy, diverse glory, The Bakersfield Sound 1940-1974 commemorates the winners and losers with affection and respect. If there was a Pulitzer Prize for box sets, it would be a unanimous choice.