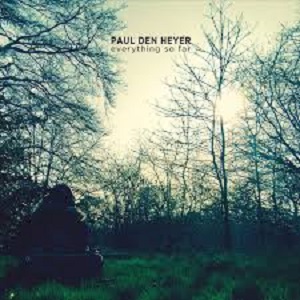 25 June 2019
In a time space of a mere 34 minutes, Liverpudlian Paul Den Heyer brings you on a personal journey into his artistic soul. His debut long-player, Everything So Far is the perfect summer soundtrack, it is a relaxed affair with both dreamy depth and a kaleidoscope of color. Den Heyer, who first came to prominence as lead singer with Fishmonkeyman, the nineties alternative rock band. Now however he has set his sights on a more relaxed, emotionally injected flavor to sculpt his vision, and one which resonates perfectly within these modern times.
Opening poignantly with the Californian-soaked "Technicolor Summer Sunshine", an acoustically driven, atmospheric introduction to what will unfold. A gentle pedal-steel lifting the theme as the music effortlessly flows. "Illusions Shine Like Gold", is a transcendent song, deep in fragmented melodies, and the hypnotic vocal of Den Heyer guiding audiences through the realism of life.
"Unfolding (Revisited)" opens with an acoustic riff that dominates the song, folk-psychedelic elements effortlessly flow across the song. Although, the sound has a gentle edge, the voice of Paul Den Heyer still possesses that Brit-Pop vibe to it. Best described as The Stone Roses switching genres to folk. "Money Cloud" is straight from the seventies, this music would not have been out of place in the same era as Kevin Ayers. The wonderful wah-wah guitar brings an extra dynamic of authenticity to the track.
"Passing Of The Season" would not have been out of place half a century ago at Woodstock. In fact Paul Den Heyer has such inspired conviction in how he presents a song it is hard to believe he is British let alone from the cobbles of Liverpool. After the a cappella opening to "Home Song", the track lets loose some soaring harmonies and chugging acoustic guitar. The actualities of life and death are cleverly woven behind melody;"Here comes a tidal wave, to wash away my sins". Although the theme is bleak the music remains positive, as if looking for the hope in our existence; "And I will rise again!".
The mournful "End Of The Summer" leads the album into the title track "Everything So Far", striding acoustics against a full band, the blissful hope and the closing chapter to one part of Den Heyer's journey comes to a close. On reflection this is an album of exquisite arrangements and skillful melodies galvanized by the sweetest of harmonies. It is an enjoyable album and well worth checking out, with a fresh quality that heralds Paul Den Heyer coming into his own as a musical force of nature.
TRACK LIST
1) Technicolor Summer Sunshine
2) Clear Sunlight View
3) Illusions Shine Like Gold
4) Unfolding (Revisited)
5) Money Cloud
6) Passing Of The Season
7) Home Song
8) End Of The Summer
9) Everything So Far
CREDITS
Produced with Christopher Jones, Richy Jones,
Lorcan Moriarty, Dave Jackson, Julian Connor,
Jason Riley, Nicholas Schuster, Bill Teags,
Jessica Den Heyer, Terry Lloyd & Alan Currie
at The Panic Room, Wirral.
Mastered by Danny Woodward at Whitewood Studios, Liverpool.