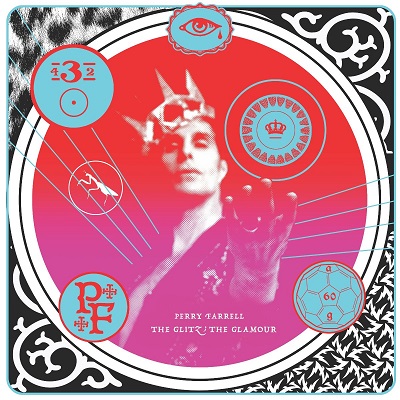 1 December 2020
Finally 2020, we're in business with something magnificent. Perry Farrell needs little in the way of introduction. As co-founder and lead singer of seminal alt-rock outfit Jane's Addiction, he began his journey a mere thirty-five years ago. After a live debut,  and two further solo albums, the critically acclaimed studio albums, Nothing's Shocking (1988) and Ritual de lo habitual (1990), Jane's Addiction called time on their meteoric rise. However, not before influencing the nineties alternative and grunge scenes, such acts as Smashing Pumpkins to System Of A Down continued the incendiary style that the band laid out. Following the dissolution of Jane's Addiction, and after creating the Lollapalooza festival (as a farewell tour), Perry settled into a new outfit Porno for Pyros. That project lasted for two albums, the self-titled 1993 release followed by Good God's Urge in '96, and a solo career beckoned for the singer-songwriter. That that brings us on to the mouthwatering goodness on offer here. 
Indeed, Perry Farrell is iconic, and the music world is all the better for artists such as him. This box set nails everything down to reinforce that statement. The Glitz; The Glamour is an overview of the artist's pre and post Jane's Addiction work. It is a sprawling sixty-eight track release, spread across nine slabs of vinyl, that explore the incendiary genius of the man's creations. Two of these 180gm vinyl records contain 11 specially commissioned remixes, and collaborations with some of cream of the electronic scene including Maceo Plex, Groove Armada, UNKLE, Solomun, Booka Shade, Richard Norris, Francois K and The Avalanches. Along with this comes a Blu-ray featuring 12 uncompressed Dolby Atmos mixes from Kind Heaven and three brand new previously unreleased Atmos mixes. Then there is a lavish photographic memoirs hardcover book, a bandana, plus two exclusive prints Zoltar the mind that created the sublime box set cover. 

The music itself contained within stands front and centre. The first wax banger is the rare, and essential
PSI

Com
Ep. The rip roaring 1985 release by the juggernaut of Perry's that preceded Jane's Addiction. It is a mix of gothic new wave that is undated, with all the green shoots of what was to come but also acts as the musical time capsule. A sonically saturated five tracks which show how Perry really hit the ground running with a creative burst of energy. 
The second and third slabs are the 2001 acclaimed
Song Yet To Be Sung
. Recorded after the singer's experiences in Sudan helping free thousands of slaves from human bondage. From the depths of evil, Perry pulled a mission statement to humanity, the album is one of harrowing, intense moments, with a thread of hope that glimmers in the darkness.The fourth and fifth pieces are
Satellite Party's
2007 album
Ultra Payloaded
. Co-produced by Perry and
Nuno Bettencourt
, and featuring such heavyweight artists as
John Frusciante
and
Flea
of the
Red Hot Chili Peppers
, former Peppers and
Pearl Jam
drummer
Jack Irons
, along with former
New Order
bass guitarist
Peter Hook
.
Ultra Payloaded
is everything you would expect and more. 
The sixth piece, and second solo studio album is
Kind Heaven
from 2019. A stunning piece of work produced by Perry and the legendary
Tony Visconti
, and is a far cry from the Jane's Addiction days. It is relaxed, atmospheric, without the urgency of previous adventures, and contains songs that are memorable, catchy and poignant with "Let's all Pray For This World". The aforementioned remixes and collaborations take up discs seven and eight, while disc nine is the icing on the creative cake. This contains new music, and more collaborations with
Starcrawler
, the
Kind Heaven Orchestra
and even
Jim Morrison
courtesy of a new unearthed recording. 
In truth,
The Glitz; The Glamour
is bordering on the divine, something worthwhile to invest into, and simply lose yourself. The overview is one which shows the advances Perry Farrell has made, and continues to make in music. It is a celebration of a fearless, alternative master, who rarely puts a foot wrong. 
Tracklisting: 
I. Psi Com
Ho Ka Hey
Human Condition
Xiola
City Of 9 Gates
Winds
II.& III. Song Yet to Be Sung
Happy Birthday Jubilee
Song Yet To Be Sung
Did You Forget
Shekina
Our Song
Say Something
Seeds
King Z
To Me
Nua Nua
Admit I
Happy Birthday Jubilee (Reprise)
IV. & V. Satellite Party- Ultra Payloaded
Wish Upon A Dog Star
Only Love, Let's Celebrate
Hard Life Easy
Kinky
The Solutionists
Awesome
Mr. Sunshine
Insanity Rains
Milky Ave
Ultra-Payloaded 
Woman In The Window
VI. Kind Heaven
(Red, White, And Blue) Cheerfulness
Pirate Punk Politician
Snakes Have Many Hips
Machine Girl
One
Where Have You Been All My Life
More Than I Could Bear
Spend The Body
Let's All Pray For This World
VII. & VIII. Remixes & Collaborations
Let's All Pray for This World (UNKLE Reconstruction)
Shekina (Groove Armada Terrace 2000 Remix)
The Solutionists (François K Brave Vocal Mix)
Where Have You Been All My Life (Solomun Remix)
Pirate Punk Politician (Hyper Remix)
Let's All Pray for This World (Maceo Plex Exclusive Remix)
Milky Ave (Speakman Sound Remix)
Machine Girl (Richard Norris Remix)
Oh The Sunn! (The Avalanches feat. Perry Farrell)
Wish Upon A Dog Star (Booka Shade Remix)
Where Have You Been All My Life (PaperMacheTiger Planet Moog Remix)
IX. B-Sides, Rarities & New Music
Turn Over The World ft Starcrawler – Perry Farrell new music
Vast Visitation ft.recording of Jim Morrison – Perry Farrell new music
Cling To Life- Kind Heaven Orchestra- new music
Love Feedback- Kind Heaven Orchestra new music
Whole Lotta Love (Led Zeppelin Cover) -from the Perry Farrell album "Rev"
Rev – from the Perry Farrell album "Rev"
Go All The Way (Into The Twilight)- taken from "Twilight: Original Motion Picture Soundtrack"
Nasty Little Perv- from the Album "NCIS TV Soundtrack"
Blu-Ray DVD Atmos Mixes
Kind Heaven Album
(Red, White, And Blue) Cheerfulness
Pirate Punk Politician
Snakes Have Many Hips
Machine Girl
One
Where Have You Been All My Life
More Than I Could Bear
Spend The Body
Let's All Pray For This World
Bonus Tracks
Let's All Pray for This World (Maceo Plex Exclusive Remix)
Machine Girl (Richard Norris Remix)
Love Feedback- Kind Heaven Orchestra New track
For more info & to order
Website
Facebook