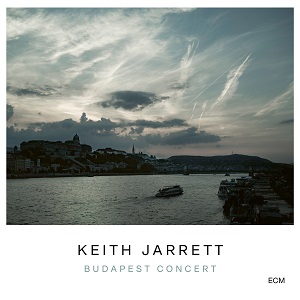 1 December 2020
Now that renowned jazz pianist Keith Jarrett seems to have come to the end of his career, with health issues making it currently impossible for the 75-year-old to play his instrument, both artist and fans face a future with no newly recorded Jarrett music. But there's still plenty of new music to be had from recordings of previous concerts – that's the advantage to doing solo shows that are almost completely improvised. Budapest Concert is a prime example. Recorded two weeks before last year's splendid Munich 2016 on his 2016 European tour in, of course, Budapest, the concert contains ninety minutes and two disks of spontaneous piano composition, plus a couple of standards to round off the encore.
Loosely woven together as a suite, as has been most of his recent live work, the show begins with "Part 1," a rollicking piece that rumbles up and down the keyboard on a mutated boogie beat, sustaining a high energy level for nearly fifteen minutes. That's immediately followed with, naturally, "Part 2," which slides beautifully into ballad territory with near ambient drift. And so it goes, as Jarrett moves back and forth between spirited virtuosity and understated elegance, making the pulse race, then the heart rate relax. "Part V" seems to compose a new standard on the fly, with traditional jazz harmonies and an old-fashioned tune, before giving way to the jauntier "Part VI," another staircase climber, which then falls into "Part VII," another slowed-down serenade with one of Jarrett's most beauteous improvised melodies. Careening from side to side to the keyboard, "Part IX" blasts into free jazz, while "Part XII" dives heartily into the blues. "Part X" bifurcates with a two-note chord riff on the bass notes and Jarrett's distinctive rippling runs up top. The show concludes with Jarrett putting his improvisatory powers to work on a pair of sentimental favorites: "It's a Lonesome Old Town," made famous by Les Paul and Mary Ford, and "Answer Me, My Love," from the repertoire of Nat King Cole.
Because Jarrett's family has roots in Hungary and the pianist has always had a strong affinity for the country's most famous composer, Béla Bartók, this show was a homecoming of sorts, which may explain the particular verve he brings to his performance. Regardless of the reason, Jarrett is at his lively, spontaneous best at this Budapest Concert.