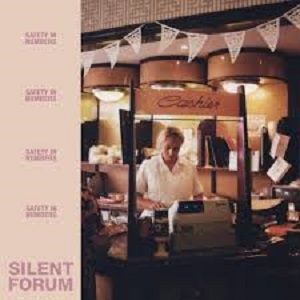 22 June 2019
The city of Cardiff in Wales has produced some outstanding artists and bands over the years, Catatonia, Super Furry Animals to name just two. Keeping within that spirit of tradition, Cardiff based Silent Forum have returned to complete a hat-trick of acclaimed singles. Their latest, follows on from the infectious "How I Faked The Moon Landing" and the playfully-sublime"Robot", they have now released "Safety In Numbers".
Silent Forum take a more reflective look and translate a mindfulness that offers another dimension to what the band are capable of. Whilst the other singles sparkled with post-punk and slices of new wave, "Safety In Numbers" displays a restraint whilst retaining all the well-honed dynamics the band possess.
At times harking back to the atmospheric sounds of XTC and the lyricism of Japan. In reality it is direct, with an addictive melodic bass subtly driving forward with a foothold firmly in the past.
An album is due for release and so far these singles has opened a door to our curiosity and the brilliance that is to come.
For more on Silent Forum;
Facebook
Bandcamp