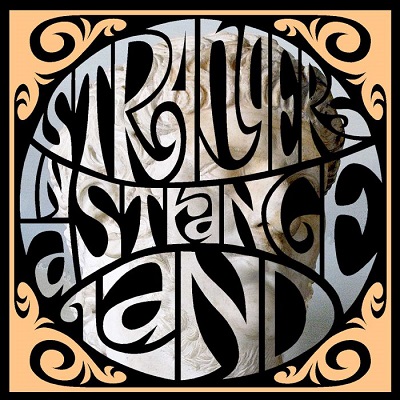 21 October 2020
In 1964, the Kinks released the game-changing "You Really Got Me". A song which launched a million guitar bands and helped develop a new sound in rock and roll. At the controls of that song was Chicago born producer Shel Talmy. This man would go on to produce some of the greatest music of the sixties, and after. In 2020, Shel is still very active, and producing quality works the same as he always has. That brings us nicely on to this latest track by the San Francisco-based Strangers In A Strange Land.
Recently Alec and Paul from the Strangers,  joined with Shel Talmy, Jigsaw Seen's Jonathan Lea, and Blondie's Clem Burke (no relation), to back ex- BeeGee Vince Melouney on the cracking "Women (Make You Feel Alright)". Now, sans Vince, that team returns on a new track, "Poison Chalice". This follows up beautifully the previous work from Strangers In A Strange Land, last April's "Broken Tambourine", a track once again produced by Shel, and both boys are creatively on fire. 
Strangers In A Strange Land are an aptly titled outfit. They join the incendiary sounds of the sixties and instill them in this modern world. On "Poison Chalice" they are stretching that influence and are obviously revelling in it. Any outfit produced by the legendary Shel, let alone the guitar prowess of Jonathan or the beats of Clem, are going to project every ounce of their talent into the work. And they respectively have here. 
"Poison Chalice" is an exceptional piece of music. Clean picked acoustics give way to an avalanche of strings, a section that lives behind the thunder of drums. The sublime vocals are a heart wrenching affair, pulled from a golden age, and they drive the nostalgic feeling. Within all of this, the wall of sound produces emotions, an organic energy that is naturally addictive, before those acoustic machines roll back as mournful strings reflect a heartbroken loneliness. This second Strangers track points closer to a larger project with Shel Talmy overseeing the sound, this is a chapter of a much bigger story, and it will become a modern classic.
Poison Chalice ;

Broken Tambourine
;
To Purchase:
Website
For More On Strangers In A Strange Land:
Facebook