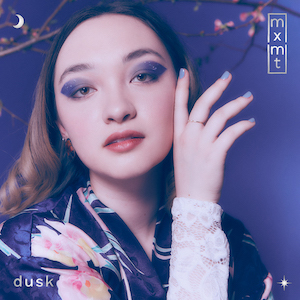 20 October 2020
Maia, who records as mxmtoon, first made a name for herself via YouTube and TikTok, but don't hold that against her. On the 2019 debut album The Masquerade, this gifted Chinese-American singer-songwriter proved her charming, ukulele-driven bedroom pop could flourish in a more elaborate setting, keeping the emphasis squarely on her winning, gentle voice and introspective tunes.
mxmtoon has continued to refine her music on two fine 2020 EPs, first with Dawn and now Dusk. Underscoring her higher profile, she gets assistance from a couple of cool talents in the form of Tune-Yards' Merrill Garbus, who produces some tracks, and Carly Rae Jepsen, who contributes vocals to the breakup song "OK on Your Own." Where mxmtoon was self-conscious and unsure of herself last year, she now projects a tentative confidence, while taking pains to reaffirm her outsider status on the airy "Wallflower."
Growing up gracefully can be difficult, but mxmtoon has made it look easy so far.