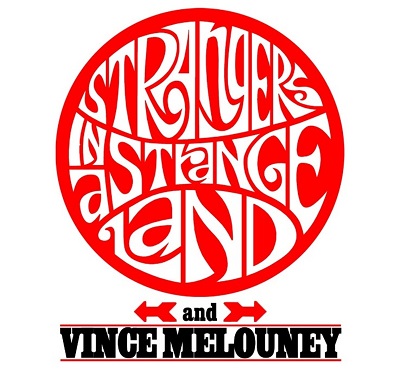 22 February 2021
This is a breathtaking project, and one that is truly rewarding. The San Francisco-based Strangers In A Strange Land (Paul Kopf, Alec Palao), have nailed a new track, a piece of sonic poetry that has legends pulsating through its creation. Following up the previous singles from 2020 "Broken Tambourine", and "Poison Chalice", their latest brings audiences closer to that destined long-player. "Ring My Bell" is once again produced by the maestro of rock Shel Talmy, and given it that extra bit of an edge is ex- Bee Gee Vince Melouney. The guitarist of course, who lent his lines to the original when the Bee Gees recorded it back in 1968. Also, to add further to the flourish of sounds, Jonathan Lea of The Jigsaw Seen provides a healthy dose of extra guitar and a touch of mellotron, for that extra depth.
The rudimentary basis of "Ring My Bell" harks back to the past as does the foundations of this recording. Similarly to the nostalgic driven previous outings from the Strangers, there is that sense of divine style that sticks out in this era. "Ring My Bell" is bombastic, an atomic detonation of musical excellence. The production by Shel Talmy is exquisite, the man has a talent that is wrapped in greatness, and second to none. The wall of sound jumps from the speakers to embrace the listener, every instrument is pronounced, whilst the voices of The Strangers soar and harmonize. 
That added piece of brilliance given by Vince Melouney adds an extra dimension to proceedings. By all accounts,  this is a fine piece of work, completing a trilogy of singles that ooze with atmosphere and uplifting joy. Really this sort of quality is a rare commodity, but all involved have really captured lightning in a bottle. 

For More Info: 
Facebook
Website