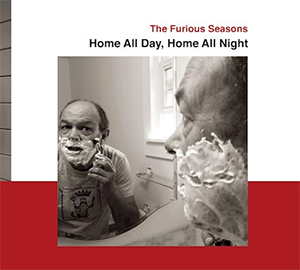 17 August 2021
Los Angeles folk trio The Furious Seasons have returned with a follow up to 2020's La Fonda. Entitled Home All Day, Home All Night, the record covers a broad range of themes from COVID and politics to aging and love. The band recorded separately during the pandemic, and although everything was recorded in four different studios with two producers, the collection is surprisingly unified as a whole and the entire album functions beautifully together. The result is a mellow soft rock sound reminiscent of Jackson Browne or Paul Simon that is the perfect tonic for the chaos of modern anxieties.
Don't be fooled, however, because still water runs deep, and the group covers a wide range of emotional ground with typical pinpoint accuracy. From "7420" which remarks upon the bittersweet feelings that many have felt quarantining with their significant other, to "Lovely Backyard" an ode to the simple pleasures in life, singer David Steinhart never fails to capture those nuanced feelings that exist without words yet are some of our most powerful experiences. Of special note is a cover of "Changes." Other than the Associates and Au Pairs, very few artists have ever done anything original with a David Bowie cover, but The Furious Seasons have delightfully transformed the song into a folky Dylanesque rendition.
Home All Day, Home All Night might emerge as one of the more profound artistic statements of the COVID precisely because the band doesn't date themselves to the era and the album will hold up long after this pandemic is behind us.