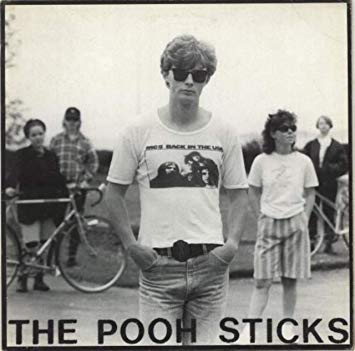 8 August 2019
The Welsh legendary underground outfit The Poo Sticks are releasing another rarity from the archives. The power-pop act already reissued their effervescent 1991 US breakthrough this year, The Great White Wonder as a limited run for Record Store Day via Glass Modern. Now four months later comes news of a second, mouthwatering reissue, The Pooh Sticks 7" Box Set.
Originally released in 1988 by Fierce Recordings as a collection of five one-sided singles in a 7" cardboard box with etched B-sides and hand drawn labels. Now courtesy of Optic Nerve this box set reappears this time as five different coloured vinyl 7" singles alongwith a twenty-four-page booklet including info about the band and the recordings contained within. Optic Nerve has taken this release another step further by including B sides to the singles, all of which were recorded in 1988. These B sides are the jewels of the set, four of which have never been released before. The fifth, the California soaked punk driving "Hard On Love" only appeared as a short-lived flexi-disc at the close of the eighties. 
The original sets are a rarity going for serious bucks if you can find one, though not containing the rarities included here. A heads up comes though, as this is again a limited run due for release on 22 November. Unsurprisingly, Optic Nerve are expecting to sell out before that date, and have highlighted, sadly there will be no repress!
Tracklist
Disc 1: "1-2-3 Red Light" / "Double Shot"
Disc 2: "Heroes And Villains" / "Life's A Gas"
Disc 3: "Heartbreak" / "Sex Head"
Disc 4: "I Know Someone Who Knows Someone Who Knows Alan McGee Quite Well" / "Hard On Love"
Disc 5: "Indiepop Ain't Noise Pollution" / "Knock Three Times"