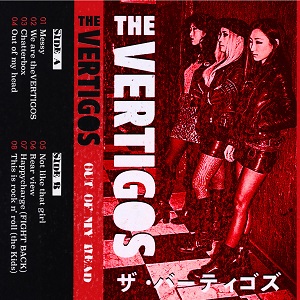 19 January 2020
One of the more interesting finds from last year is this all-female outfit The Vertigos. Hailing from Tokyo, this three-piece is an incendiary explosion of punk, an old-school attack with all the authentic mechanics in place. 
This Ep titled Out Of My Head from March last year, contains several tracks which hit you between the eyes. Simply put the trio manage to overtake any expectations. The songs are short, sharp shocks which contain a psychotic sexiness mixed with a confidence that can be both alluring and intimidating. 
Opening with the machine gun guitar of "Messy", The Vertigos nail their mission statement early on. The songs chugs along at a fantastic pace, anchored in the seventies proto punk scene, more New York Dolls than Ramones. Following with the anthemic distorted crank of "We are theVERTIGOS", this is not some amateur hour, DIY ethic heavy at work, this is well executed fuzz rock. 
The drum rattles the intro of "Chatterbox", a track which rolls along somehow managing to stay on the manic rails of the bands forward momentum. With more wry vocals and stinging guitar solos, the  midpoint, standout "Out Of My Head" erupts. A war machine of noise, with a rhythm guitar played at breakneck speed. One of the standout tracks is the surf-psychobilly of "Not like That Girl", a midpoint between the B-52s and The Cramps with a woofer rattling bass intro. 
"Rear View" is simple destruction with three brain exploding chords played at a deafening volume. That is the key to The Vertigos, as it becomes apparent this set was recorded loud enough to peel the paint off the studio walls. Same as the closing "Happycharge (FIGHT BACK)". The Japanese accent is not as apparent at times, and it is more in line with a European vocal delivery. 
Without doubt the trio has honed the style of their influences. From delivery to projecting the vocals, all is steeped in seventies punk. Those seeking take on the original sound are in for a worthwhile adventure, though the rare cassette versions do hold an eight-track which I feel I have to hear. Hopefully The Vertigos release a long-player to see how their sound translates on a bigger surface. 
Tracklist: 
1.Messy
2.We are theVERTIGOS   
3.Chatterbox    
4.Out of my head    
5.Not like that girl    
6.Rear view    
7.Happycharge (FIGHT BACK)
guitar/vo Juyoung
bass/vo Senna
drum/vo Yakumo