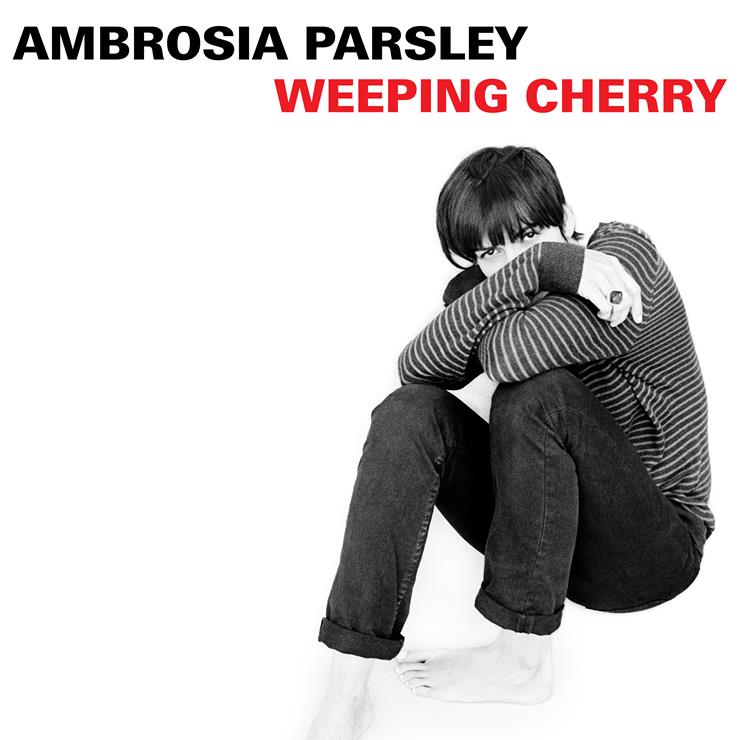 28 April 2015
There are two music trends I've noticed over the past few years popping up in a variety of local scenes. The first is the re-emergence of 90's dream pop or 'sadcore' influences like Mazzy Star and Red House Painters. As an adult, I've fallen in love with these new explorations in a way I couldn't during their original incarnation. The second trend has been the re-emergence of interesting power pop acts like Danielle Duval, Brass Bed, and Kuzin that blend influences like T. Rex and the Beatles into a modern 'indie' aesthetic. Between the two have come some of the best albums made over the last five years. Somehow, Ambrosia Parsley has found a crossroads between them on her new record, Weeping Cherry, and the result is simply fantastic.
The New York singer-songwriter is no stranger to conjuring success, selling a half-million records over the last 15 years with her band, Shivaree, having music in the films of Quentin Tarantino and David O Russell while working with the best and brightest, from Laurie Anderson to Chuck D to Hal Wilner to Dave Sitek. In 2006, though, Parsley gave us the slip, ending her band to raise her son in the Catskill countryside. Songs occasionally crept out—as did Parsley herself, sometimes appearing onstage at small clubs or backing friends—but her promised full-length solo debut repeatedly hit snags. Rather than retreat or show regret, the Parsley carried on, finally releasing Weeping Cherry in France in 2013. And now, 18 months later, the album is finally set to be released Stateside through Brooklyn's Barbès Records, and boosted by a new bonus track ("The Answer").
In quick succession, in the span of a single year, Parsley endured the deaths of a series of friends, bandmates, and relatives. The songs of Weeping Cherry are, in her words, "basically conversations with dead people—with the exception of one or two, which feature my tried and true: sin, punishment and redemption. I hadn't written a solid collection in a really long time, but this one was more exorcism than exercise. And even though it's such a dark one, I never had so much fun making a record." Working with longtime collaborators Chris Maxwell and Phil Hernandez (aka The Elegant Too), as well as contributors Danny McGough, Joan Wasser, AA Bondy, Benjamin Biolay, and those dearly departed, Parsley recorded the album piecemeal over many months.
"I don't feel like the record sounds really sad because we weren't really sad when we were making it. I usually can't write about anything while I'm sad. I can only write about it once it's funny, which can take a really long time, after its been in the bottle a while. We tried, in between a few nightmares, to sound pretty and joyous. I don't want to be the designated bummer—I like to laugh and dance too much for that." -Ambrosia Parsley
I was particularly heartened to read Parsley's take on the record after giving it a first listen, because the first note I took was, "Sad, but happy?" The real drag about listening to an old Mazzy Star or Cowboy Junkies record is that it really is only for those times when you need to wallow in your own sorrow. As much as I love Hope Sandoval and Margo Timmins, I still can't put one of those LP's on when I'm in a good mood. Parsley somehow finds a way to break that curse by using that same deep, beautiful vocal style, but writing songs that aren't complete slaves to sorrow. I'm not sure that it would be possible for someone to write the groove on "My Knees" or "Skin & Bone" without finding something about their life to enjoy.
It's clear from a single listen that Ambrosia is having fun making this Weeping Cherry. I, for one, am thankful for that because it is incredibly rare to come across an album that has this much going for it. You can find just about whatever you are looking for, sometimes in the same song. There is sadness, but there is also celebration, humor, and joy. These are silly little pop songs, but there is also a depth and complexity that you would never expect to hear from a pop song.
I've been on a kick recently of thinking about music in terms of a real utility. Who is this song for? When will I want to hear it? Beyond vague overarching descriptions, Weeping Cherry will offer you a song for just about any need you have. Want a creeping, slightly jazzy track for the car on Saturday night? "Empire" is all yours. You say you need a dreamy groove to ease you into the workday? Well, just give "Rubble" or "The Other Side" a spin. Need something to improve your mood after a rough day? "My Hindenberg", BAM! Just about every track on the album has a deserving spot somewhere in your playlist collection.
Altogether, I have to admit that I'm extremely glad Ambrosia Parsley decided to grace the world with a new album. Her taste, voice, and songwriting skills are all unique talents and I feel a little bit better about my day knowing she's still out there writing songs. Weeping Cherry is everything I want to hear from a new album. It is immediately pleasing and I'm finding new things to enjoy about it with each successive listen. Further than just a collection of dream or power pop influences, Ambrosia has put together a truly inspired and individual piece that will likely be deserving multiple spins for years to come.