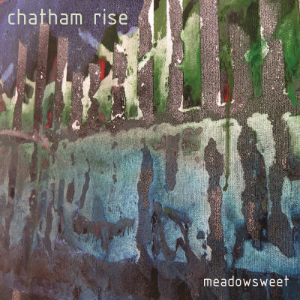 4 July 2018
The Minneapolis psych meisters have done it again on this shimmering and gorgeous new album, their second full length on their imprint, Picture In My Ear. Meadowsweet features guest performances from Moogy, Helena Espvall, and Peter Anderson, with much of the recording and mixing taking place at Pearl and Blue Bell Knoll Studios in Minneapolis. The main force behind Chatham Rise is Picture in My Ear label head, Collin Axel, along with his bandmates Tim, Sam, Ben, Brian, and Sean (could locate no information on them beyond this). During this hazy and immensely pleasurable listening experience, I hear glimmers of Brian Jonestown Massacre and Storm in Heaven era Verve (especially on the tremendous "Eventide").
The gentle "The Riddle" welcomes you into its warm embrace and kicks off the album in supreme fashion. Dreamy waves of sound and Collin's soothing voice envelop you as it unfolds, starting things off on a very high note! Chatham Rise are so incredibly good at this brand of soft psych, and yet, why don't more music aficionados know about them? "Hummingbird" is equally fine but less sedate, bursting with melody and the fine chops of this psych collective, a sun-dappled and short song that reminds me a tad of the great BJM. "Never" is a mind-bending and cosmic head trip, immediately dousing your synapses with its dreamy hooks. The sensational tune "Eventide" is revived from the band's earlier split with the great UK psych group Thelightshines, and what a song it is. Immediately reminding me of early Verve, I am swept away by its majestic wash of sound, bubbling keyboards residing next to equally trippy guitar squalls.
"Surf in G" pulsates with a strong bass line, droning keyboards, and filigreed guitar woven into the mix. It might as well be called "Starshine", as I envision myself in the cosmos, planets, nebulas, and awe-inspiring sights at my fingertips. "Summer" perfectly describes the langour and miasma of heat I find myself trapped in during my vacation week, not inclined to do more than kick back with a cold one and partake of this winning tune. It moves quickly through in captivating fashion and like all good songs, ends far sooner than you're ready to part ways with it. "Sugar" is the shining gem in an already star-studded crown of musical excellence, and once again the BJM influence rises to the surface. I absolutely adore the keyboards on this song, and the vocals spiral about like galactic arms, ready to drag you into orbit. Amazing! The lovely instrumental "Film" is more introspective and moody, like thin gray clouds muting the sunlight, not completely obscuring the light. "Le Mirage" is the final capstone in this release, and it features an unknown female vocalist, whose feathery vocals float lightly over a gauzy backdrop, like silvery rain drops painting the surface of a flower. Highly recommended for all psych fans, and for those who appreciate exquisitely rendered music, and one of my Top 10 releases of the year so far.
Pick the album up over at Bandcamp and catch up with the band on their Facebook page.