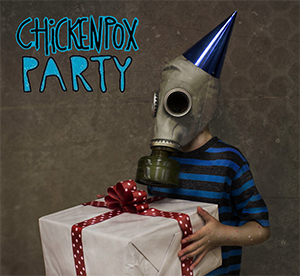 21 November 2015
Chickenpox Party is a band located deep in the south in Brookhaven, Mississippi. According to the band, who all have their own daytime jobs, "Chickenpox Party are crafting tunes that force you to acknowledge the power of Southern Rock." Yet on the album there is less of the drooling idiocy put forth by bands like Lynyrd Skynyrd, and more of the gothic modernism of William Faulkner. Don't be fooled, however, there's still plenty of bluesy garage rock to go around. It's just Southern Rock as if played by art students.
It's hard to pick a single from the record, and it's because of the way the album was specifically designed. Influenced by 60's and 70's album rock, Chickenpox Party is best taken as one complete experience. From spoken Shakespeare and Faulkner intros on "Fair Weathered Friend," and "One More Nail," to a skit at the beginning featuring "Scabby the Clown," the entire experience is one intended to be swallowed whole.
The album still manages to have its high moments, including the sinister Black Sabbath influenced "Ill Deliberation," and the thundering jam that is "Just The Same." For part time musicians, Chickenpox Party have created a wonderfully focused and conceptually solid release.