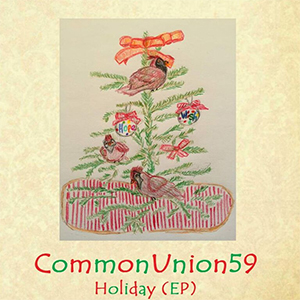 10 December 2015
San Francisco's CommunionUnion59 are back and this time with a little present just in time for the holiday season. The duo, comprised of Steve McKenzie and Laura Malasig, have recently released their Holiday EP featuring two new festive songs to help get you right in the spirit.
"You and Me," self-described as "a holiday song with a folk vibe wrapped in a love song," is a charming little number perfect for anyone not a fan of saccharine, in your face Christmas songs. The lyrics are subtler than most seasonal tunes, and it is as much of a love song as anything else. "The Spirit Of Christmas," is more overt, but with its full choir, it will be impossible not to feel a little bit of the holiday magic after one listen. It immediately sounds like it has the potential to become a seasonal standard.
If you've ever grown tired of the same playlist of typical Christmas songs, and are desperate for something new and original, you'll find warm sanctuary in CommonUnion59's Holiday EP.
comments powered by