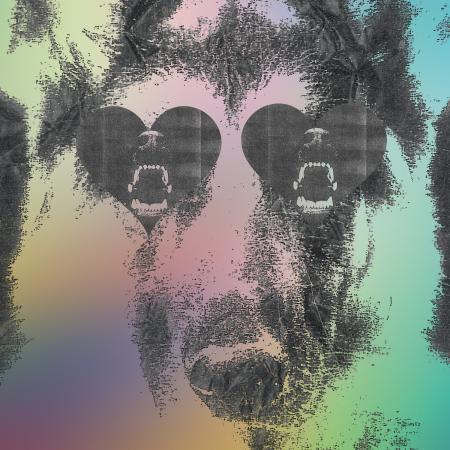 12 May 2015
Well, summertime is almost here and that means it is time for some new psychedelic rock from California. Okay, that's gonna happen pretty much all year round. But, this time it's really, really good. I promise. Crocodiles was formed in 2008 by core members Brandon Welchez and Charles Rowell after the break-up of their former punk bands Some Girls and The Plot to Blow Up the Eiffel Tower. Whilst at the same time playing in an early incarnation of Dum Dum Girls (Welchez is married to frontwoman Dee Dee Penny), Crocodiles gained exposure in 2008 after fellow Southern California noise pop band No Age included their single "Neon Jesus" in a list of the year's best songs. This led to the duo being signed to Mississippi-based label Fat Possum Records, who released the band's self-recorded debut album Summer of Hate, in April 2009.
In addition to their own recordings, Crocodiles have collaborated with Television Personalities' frontman Dan Treacy as well as Dum Dum Girls. Although initially gigging as a two piece, Welchez and Rowell have expanded the band to include a live drummer, bassist and keyboard player. Musicians in the live band have included members of Blank Dogs, The Slits, A Place To Bury Strangers, Cat Power and Dum Dum Girls. With each new release, Crocodiles' sound has also expanded past the proto-typical two man lo-fi psychedelic mish-mash into something both their own and reminiscent of the recent past.
After touring in support of their debut full-length, the first half of 2010 saw Crocodiles go into a studio in the Mojave Desert with British producer James Ford. The resulting sessions produced the band's second album Sleep Forever. The record was released by Fat Possum in the September of that year. In September 2011, Rowell and Welchez self-produced their third album, Endless Flowers in Berlin. The album was released in spring of 2012. Crimes of Passion, produced by Sune Rose Wagner of The Raveonettes in Los Angeles, followed in 2013. The break neck pace of production has continued into this week, with the release of their fifth LP Boys on Zoo Music. This time around, the boys decided to take a trip to Mexico City for the recording, and that influence makes itself known in a few spots of the album, as on my personal favorite track "Kool TV" with it's cha-cha beat and Chicano percussion.
There have been a lot of great bands to come out of California in the last decade that are using the Jesus & Mary Chain/Echo & the Bunnymen blueprint for psychedelic rock. Crocodiles is in that vein, but are exploring a key element of that sound that all of their contemporaries have seemingly forgotten; the Jesus & Mary Chain were clearly not taking themselves too seriously. Crocodiles go beyond the dark, hazy production filters to include this kind of silly, self-effacing Beach Boy swagger. How could there be so many bands in California listening to Psychocandy and nobody else is picking up the beach rock reference? That just seems wrong. This little bit of lightheartedness goes a long way to keeping their music more lively than you might find from the standard goofball psych act coming out of San Francisco. I pause a little in going too far with the J & M comparison however, because Welchez and Rowell actually do a lot of work to include other sounds into their own mix. Boys is easily the best example of those variations yet. Here, you'll find nods to Bossa Nova lounge ("Don't Look Up"), Manchester dance ("Crybaby Demon"), and Eno-esque glam ("Transylvania"). There is even a roller rink disco track ("Foolin' Around").
This is the most widely influenced record that Crocodiles have released yet and, I would argue, it is also their best. Almost everything about Boys is the porridge that was just right. From the psychedelic production to the sardonic pop culture references to even the silly little love songs, the boys make sure to do everything just enough to avoid traipsing into the land of cliche and gloss all of it over with the kind of forever cool rock attitude that makes you think they wear shades on the subway. Crocodiles give life to long familiar tropes by giving everything their own Edgar Wright/Simon Pegg treatment; spoof and homage at the same time. As a result, Boys will be making plenty of rounds on my headphones and I suspect we'll be talking about it a lot when the time comes to talk about the best albums of 2015.