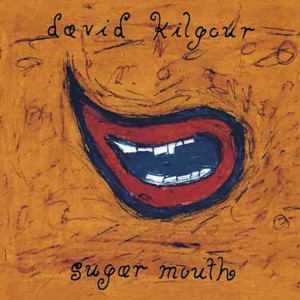 17 March 2016
The legendary David Kilgour (The Clean) has been cultivating a timeless back catalog of music for over 30 years. From the phenomenal Boodle Boodle Boodle EP released by The Clean in 1981 to 2014's End Times Undone, Kilgour's work is incredibly concentrated, tasteful, and lasting. To say that Kilgour is one of the most consistently pleasing pop artists living today would be an understatement. For proof, you could grab a record from any point in his career and hear eternal, guitar-led pop music fly out the speakers.
One of DK's best periods could be as a solo artist in the early 90's. He released two stellar solo LP's for his longtime label Flying Nun. 1991's Here Come The Cars featured a heavenly mix of dreamy folk and spastic motorik and was reissued by De Stijl in 2012 after being out of print for years. The follow-up to Here Come The Cars was 1994's Sugar Mouth, which is now being reissued by Flying Nun on March 18th, 2016.
Sugar Mouth was a departure from the homespun nature of Here Come The Cars. It remains a record that contains more immediacy and pop sheen than a lot of other LPs by Kilgour. Side A opener "No No No" is a light slice of sunbaked jangle pop that feels confusedly confessional in the best way. "Fallaway" is a glossy pop jewel representing the halcyon days when underground and mainstream rock intermingled. "1987" contains some wondrous trademark guitar by Kilgour that isn't far off from then labelmates, The 3Ds.
"Waiting Round On You" is a simple and beautiful song that starts off Side B. It's repetition and bare arrangement make it one of the best songs on Sugar Mouth. "Crazy" follows with the album's largest dose of guitar heat from Kilgour. It's steady rhythm, pounding bass and glowing guitar make it an all-timer in the DK catalog.
The CD reissue additionally features unreleased songs and demos from the Sugar Mouth era. Some of the highlights include the highly enjoyable Zuma-esque lost track "Winter" and the zoned out beauty of demo, "Listen To The Rain."
Kilgour doesn't rest on his laurels. It's just sometimes when you're not busy looking back, it's hard to remember the important works you leave behind. Sugar Mouth is one of the those important works and now we all get to revisit it, in all it's glass-eyed, glossy glory.