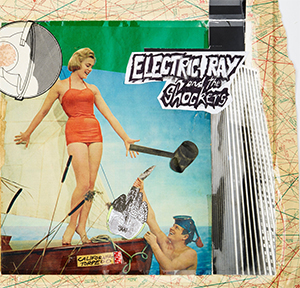 8 March 2017
Electric Ray and the Shockers are a surf psych-rock group from Linz, Austria who combine the sexy humor of The Cramps with the darker, bluesier side of Nick Cave and the Bad Seeds. A somewhat tenuous grasp of the English language adds to the fun of their sound, giving their take on garage an overall loose and primeval atmosphere. Their debut full-length record, California Torpedo, is full of tongue-in-cheek references to sex and destruction with a straightforward lyricism that leads nothing to the imagination and a lo-fi production that suits the band's ramshackle nature perfectly.
Nevertheless, the band manages to stay difficult to pin down. While songs like "Trouble" seem stylistically ripped straight from Lux Interior's textbook, songs like "Wake Up" sound like mid-80s Fall and "Memory Hunter" dares to verge into industrial folk territory. The band remains at their strongest, however, when they strip everything to the bare essentials as on the grooving, hypnoticism of the gloriously repetitive "Tempt Me."
In many regards, California Torpedo sounds like a debut album. It's the work of a band that is still searching for its footing, but it's also a work of unquestionable merit when the pieces fall perfectly into place.
comments powered by