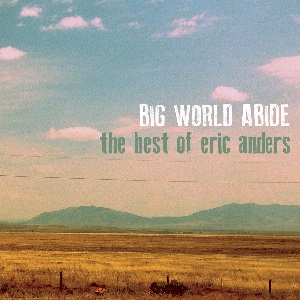 23 June 2016
Eric Anders is a singer/songwriter from the Bay Area, who has been releasing consistently compelling and ethereal music since the turn of the century. His newest release, Big World Abide , is a compilation of cuts from his four albums released since 2003—a self described best of collection.
Anders's brand of folk is predominately melancholy and in a minor key, but although most of the songs like "Remains In Me" and "Looking Forward To Your Fall" are sparse and tempestuous, they are also remarkably pretty in a fragile sense. A key point of interest within the collection is a cover of the Violent Femmes' "Blister In The Sun." Not only is it a complete reinvention from a poppy blast of folk punk to a moody, introspective dirge, the lyrics themselves are slightly altered as well, creating a large sense of an impending breakup.
The tracks are not ordered chronologically, and it works to the album's advantage as a feeling of isolation and anxiety gradually builds to its natural pinnacle, the album-closer "How Low And Why." Big World Abide is the perfect entry point into Anders's music, because it provides a perfect, bite-sized snapshot of his world, a milieu that may otherwise prove too immediately melancholic to absorb in a larger portion.
comments powered by