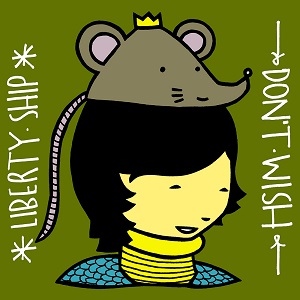 23 June 2016
Comprised of Jack Eddison (lead guitar/backing vocals), Lewis Hancock (lead vocals/acoustic guitar), Kierran Bond (drums/backing vocals), and James Brown (bass/backing vocals), Sheffield quartet Liberty Ship broke out in 2012 with the drive to produce "music that demands recognition—authentic, energetic rock 'n' roll tracks which perfectly capture the wild exuberance of youth . . ." As their newest single, "Don't Wish" (the follow-up to the critically acclaimed "Learning to Fly"), proves, the foursome is on target to do just that. Filled with downhome yet bouncy vibes, sheen tones, and wholly confident performances, the song is a delightfully anthemic rocker that effectively brings a vintage sound into the twenty-first century.
Although Liberty Ship is still a relatively new outfit, its already amassed an impressive resume, including plenty of international radio airplay, as well as tours with King Charles and Reverend and the Makers. They opened the main stage at the 2015 Tramlines Festival, shared gigs with The Zutons and Arctic Monkeys, and appeared at some of this year's most respected UK gatherings, such as the Blackthorn Festival, Kendall Calling, and even the Isle of Wight Festival. Clearly, Liberty Ship is onto something with its sound, and "Don't Wish" is arguably their best showpiece yet.
A rockabilly rhythm and tight electric and acoustic guitar strums provide the foundation on which Handcock belts out his quick, stylish, and catchy proclamations about following your own path. It's remarkable how well he captures the Southern sleekness of the legendary Americana performers of yesteryear, and once the chorus kicks in, Liberty Ship launches into joyful, anthemtic, and layered declarations akin to the manic, carefree splendor of Closure in Moscow. Of course, token flashy guitar licks are dispersed along the way, and they help cement the authenticity. Overall, "Don't Wish" is a killer track that any fan of the formula should adore, and it demonstrates just how self-assured, meticulous, and skillful Liberty Ship is at capturing a very specific and cherished type of music.