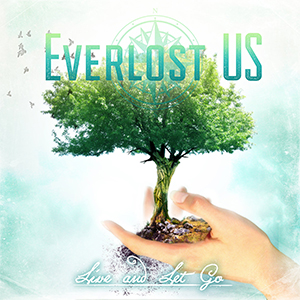 16 August 2016
Everlost US is a relatively new solo project from Orlando, Florida, whose new album, Live and Let Go, was just released earlier this month. Essentially a one man band for musician Jared Kay, Everlost US is inspired by the alt rock and pop punk of early-'00s acts like Relient K and Yellowcard. For anyone surprised to see such acts dug up and treated nostalgically so soon, Live and Let Go isn't so much the work of a nostalgia act as much as it is the reinvigorating of a slumbering genre just waiting to be reawakened.
A follow up to the project's previous EP, 2014's The Hardest Things To Say, this album finds the project solidifying into a more cohesive and structured identity along with a startling amount of sonic maturation in just two short years. Furthermore, a reoccurring sense of catharsis pervades songs like "Live and Let Go" and "I'm Doing My Best," giving the album a larger feeling of cautious optimism more evident than before. Even songs like the melancholy and seemingly suicidal "These Terrible Hands" quickly flip and end on a more positive and hopeful pivot.
Like the sprouting tree on its cover, Live and Let Go is the product of a musician growing and inviting an audience to join him along the way, making for at once both a captivating and openly honest work of art.
comments powered by