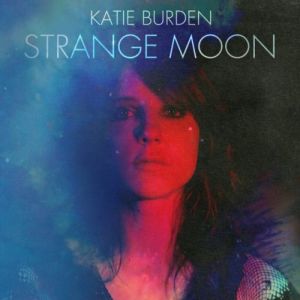 16 August 2016
Originally from Colorado, alternative artist Katie Burden trekked to NYC and later San Francisco before moving to LA in 2012. It was there that she connected with musicians like Norm Block (drummer/producer for Mark Lanegan and jennylee of Warpaint) and Jen Turner (guitarist of Here We Go Magic and Exclamation Pony). Block ended up producing Burden's debut EP My Blind Eye, while Turner provided an assist with the recordings.
My Blind Eye was released on Block's record label, Cautionary Tail, and jennylee got wind of it and asked Burden to sing back-up vocals on her latest album, right on! Burden toured to promote the release of My Blind Eye and when she returned to LA she felt compelled to start work on her next record, the accomplished and assured Strange Moon, which will see the light of day September 16th on Cautionary Tail.
Burden's songs defy easy categorization, blending elements of pop and rock into their singer-songwriter structures. The focus is completely on Burden and she commands the spotlight with magnetic authority and alluring aplomb. Like Siouxie Sioux and Polly Jean Harvey before her, Burden makes a striking impression with her bold and vivid vocal delivery that is at turns dusky and enigmatic, velvety and sultry, sharply menacing, and airily beseeching. Her changeable vocals wax and wane through each song like the circling of the moon around Earth.
Shape-shifting lead single "I Can See It Clear" is an intoxicating mix of songwriter confessional and rock grit, segueing from a tantalizingly languid sway on the verses that recalls the cultured finesse of David Bowie 's "Let's Dance" to the vocal and guitar fireworks on the brief chorus bits. Nestled between the traditional Verse, Chorus, Verse foundation, and running through the end of the tune, are other segments where Burden, couched in dreamier sighs, dangles her sharp, arch, Polly Jean Harvey-like vocals over the spare instrumentation.
Burden spins like a dancer through a thick atmosphere of reverberating and scintillating synths and strings on album opener "Don't Ask". Her tone is light, but cautionary as she mourns, "…I sit here waitin' on you." and then takes flight like a trembling sparrow through the imploring chorus refrain of, "Don't ask for much." Echoed drum beats, reflective piano notes, and smoky synths effusion swirl around her, leading to a short fairground segment of bright notes and a measured beat with Burden plaintively intoning, "I'm not for sale anymore."
Blues-inflected torch number "Cut The Wire" commences in a subdued manner with just Burden's vocals, little drips of reverb guitar, and a slow-tapped drum beat as she bluesily remarks that, "The stars are out of rhythm." The slow burn patiently builds up in intensity as Burden unleashes her angst on the chorus, crying out, "Who am I to cut the wire?" amid piano notes, shaken percussion, and a pronouncedly thumped beat.
"Strange Moon" bewitches with its nocturnal-vibed synth ambience, the bright twinkle of tinkling music box notes, shadowy, but fluid guitar lines, and a steady, but emphatic drum beat. Burden drapes her malleable vocals over the twilit sonic setting, cooing the phrase "strange moon" like a mysterious incantation on the chorus, her voice rising and fading as time whiles away past the midnight hour.
Burden casts a captivating spell throughout Strange Moon, crafting complex compositions that continuously change in structure and mood, like the many faces of the ever-revolving lunar satellite that that lights up Earth at night.