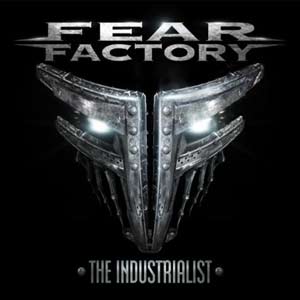 13 June 2012
Stop me if you've heard this concept before. An inorganic, mechanical entity is created, collects information and learns, becomes sentient, and sees its only means of survival and reaching its true potential is to kill its father/creator: the human race. Original, the idea is not. Fear Factory really takes "industrial" to another level. All of the band's albums featuring founding guitarist Dino Cazares have a technological theme. He must bring the inner Isaac Asimov out of singer Burton C. Bell, the one constant on all of the group's releases. The Industrialist is the second record since Cazares's return and, while I enjoyed Archetype and Transgression, both done in his stead, there is a renewed focus since his return for Mechanize. That is not to say that this is a return to the glory days of Demanufacture or the doldrums of Digimortal. There is plenty of quality to be along with the convoluted concept.
Going even further down the digital rabbit hole, excellent drummer Gene Hoglan was replaced after just one album in favor of programmed drums. What is sacrificed is some power, but not the precision (obviously). It's just a surprise. The only two drummers in Fear Factory history, Hoglan and Raymond Herrera, have both been top notch. Then again, with all of the roster upheaval over the last few years, keeping the roster down to only Bell, Cazares, and keyboardist/programmer Rhys Fulber means fewer dissenting ideas and voices.
With all of that exposition out of the way, I am actually not down on The Industrialist. As it turns out, there are some really meaty tracks here, once you get past certain overtones. The computer vs. religion theme, no matter what your beliefs, is way too heavy handed. Every other song, you're hit over the head with it. But all in all, the songs themselves more than balance that out. "New Messiah", "God Eater", and "Virus Of Faith" are really strong tracks. The growling-crooning dynamic is still the hallmark of Fear Factory's sound and it is on display again throughout. Bell's voice remains as strong as ever on "Depraved Mind Murder" and "Recharger". The album kind of falls off after its melodic apex and Fulber's most memorable performance on "Difference Engine". The decision to run two largely instrumental, guitarless compositions to end the album is a bit curious after plowing full steam ahead for the first eight entries. But as far as complaints go, that is the one glaring error. The rest is calculating, angry, and everything you want from a Fear Factory record.