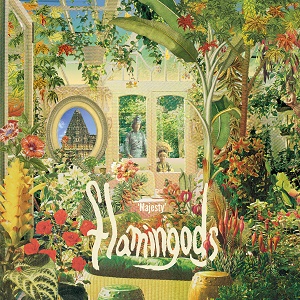 31 March 2017
Split between Bahrain and the UK, Flamingods persist, releasing a third studio album that reaches beyond earthly exotica into alien territory.
Majesty is exactly what the name implies. The title track not so much starts the album as it drops us in like we've just tuned into some plane in the Akashic records. Monotone vocals, hypnotic drums and dreamy psychedelia recall Spacemen 3's otherworldly vibe, while the following "Jungle Birds" blends exotic lounge with Bollywood funk and "Taboo Grooves" adds a touch of garage with a snaky Thirteenth Floor Elevators guitar lead. Later, "Anya" provides the perfect soundtrack for an unmade spy noir, with the closing "Mountain Man" ascending to a Don Cherry-like frenzy. It's like listening to Yellow Submarine-era Beatles as molded by This Heat and Camberwell Now.
The term "world music" usually describes the fractured folk of non-Western cultures as observed through a Western perspective, but with instruments and influences from around the globe – and even beyond its gravitational pull – Flamingods truly embody world music. Take a journey you never thought possible and wonder why you have to come back.
comments powered by