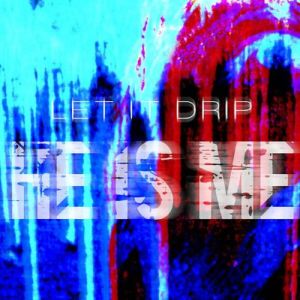 20 August 2016
US-Canadian ambient/electronic/industrial music project He Is Me is the result of the creative collaboration between the musically prolific Calgary-based songwriter/vocalist Steve Moore (The Unravelling, Post Death Soundtrack, Inner Surge) and Portland, Oregon-residing songwriter/producer Casey Braunger (Textile Arcade).
These veteran musicians actually joined forces way back in 2001 on the song "Silencer", but since that time they have been drawn to other projects and have remained mum until now as a mutually collaborative entity. Moore and Braunger have named their venture He Is Me and recently released the gripping lead single "Let It Drip" and are currently working on their debut album.
On "Let It Drip", the duo melds the ominously stalking, nocturnal atmosphere of Nine Inch Nails with the stark, dystopian industrial elements of Machines of Loving Grace and Skinny Puppy. The heavy ambience of "Let It Drip" is filled with the echoing cracks of a mechanized beat, buzzing electronic pulses, and a floating patina of synths.
Moore alternates between two distinct voices; one where he sing-talks in a calmly dispassionate tone the vivid, Beat poet-like lyrics, "Give the knowledge back / as we unlearn." ; the other in which he bursts out with unchecked, fiery exclamations. The tension between vocal/emotional centeredness and unrest carries through to the music as well, with the steady, but rhythmic stamping pace occasionally increasing into a rapid-fire tempo as Moore winds his vocals through the gritty, hypnotic sonic environment.