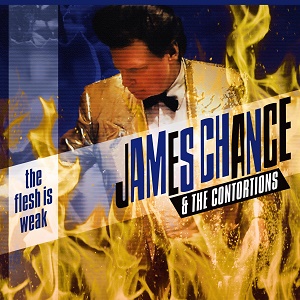 14 November 2016
In 1979, James Chance & the Contortions delivered Buy, the seminal New York no wave album that bent brains and bones with its twisted take on post-punk, skronk and funk. Now, over thirty-five years later, Chance triumphantly returns with his first full-length released under that original moniker.
"Melt Yourself Down" opens The Flesh Is Weak with a spastic blend of Eno-era Talking Heads, Fela Kuti afrobeat and Pop Group aesthetics, but when the title track reveals a touch of Miles Davis electric in its intro, Chance brazenly affirms his contorted existence. Insistent beats merge with syncopated rhythms punctuated by a big brass backdrop and jagged, razor-sharp guitars recalling both James Brown's tightest early '70s grooves and gritty psychedelic explorations as Chance shouts in his signature scat howl. Later on, soulful r&b balladry also becomes a pallet for his unique ideology. Some of these songs have been live staples since the '80s, only now receiving their proper studio treatment, while covers of Gil Scott-Heron's "Home Is Where The Hatred Is" and Frank Sinatra's "That's Life" become nearly unrecognizable under Chance's lead. It's not The Contortions of 1978's No New York compilation, but exactly where they should be at this point in their evolution.
For almost four decades, James Chance has made music his way on his own terms. That kind of dedication deserves some respect. Pick up The Flesh Is Weak and pay your dues.
comments powered by