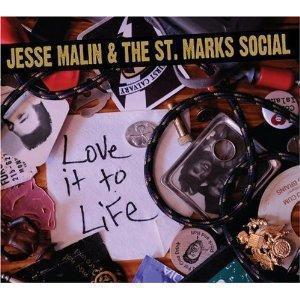 18 September 2010
" Jesse Malin, isn't he like Ryan Adams II?" someone asked me the other day.
In Malin's defense, I offered a stumbling summary of his die-hard career: teenage leader of early eighties N.Y.H.C. band Heart Attack, front man for the more seventies gutter-punk band D Generation before finally getting his best notices as a gritty 21st century singer/song-writer.
I'm not sure I did Malin's narrative arc much justice (something of which the man has never really enjoyed much of). In the end, I simply cued up Malin's new album on the iPod for the skeptic to hear and just stopped talking.
And Love it To Life, the new album in question, seems almost designed for the singular purpose of making music critics, labels bosses and hard-bitten old punks shut the fuck up.
Malin, following a live album (or two) and the requisite covers album, seems to have set out to prove his song writing, at once anthemic and mournful, remains razor-sharp. Fired up by a new backing band, The St. Marks Social, the album bursts open with "Burning on the Bowery". This song plays to every one of Malin's strengths; lacerating choruses, slashing guitar figures and an undying love of the gutters of New York City.
The album never lets up either – from the rugged sing-along, "St. Mark's Sunset" (which contains the killer line, "All my friends are dead or in business") to the raging "Black Boombox" to the quiet closing lament, "Lonely At Heart".
Over the course of the album there are echoes of The Clash, The Kinks, Bruce Springsteen, The New York Dolls, Neil Young (and probably Billy Joel too) – Malin's like a musical garburator pulverizing the scraps of rock n' roll's past and making of them a feast.
A cursory listen to Love It To Life (even in thin, compressed digital form) will prove that Jesse Malin pulled himself by his own combat bootstraps and not by riding anyone's scruffy coat tails.