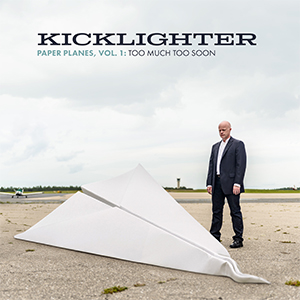 10 July 2018
Everett Young aka Kicklighter is back with the first of a two-part series of his unique brand of intellectual pop, but it's more like the beginning of the end rather than the start of something new. Although Young says he's now finished creating music as a singer-songwriter, and instead moving on to the world of the orchestra, fortunately he had enough material left over to record these final volumes. The first, Paper Planes Vol. 1 was released in May, and is inspired by the '80s pop of his youth from Tears for Fears to Prefab Sprout.
The album is intended for kids as much as adults, and thus the entire thing is broadly upbeat as well as highly danceable. But it's also strikingly intelligent and carefully crafted. "Howard Jones" is a touching and somewhat melancholy tribute to his musical idol is just about as catchy as anything on Human's Lib, and "They Don't Write That Kind Of Song Anymore" is a beautifully vunerable detour into stylized jazz indebted to Paddy McAloon.
Fans of Kicklighter will be anxiously waiting to see what Young will do with an orchestra, but Paper Planes is a bittersweet finale from an artist who clearly still has so much to give to the world of pop.
comments powered by