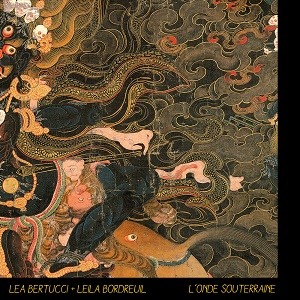 2 September 2015
Brooklyn-based bass clarinetist and ISSUE Project Room Artist-in-Residence, Lea Bertucci, teams up with French-born cellist, Leila Bordreuil, for a series of unsettling improvisations that push their respective instruments to their limits.
Inexplicably, the sprawling minimalist soundscapes of L'Onde Souterraine are performed by two ladies using amplification to create new sounds beyond the confines of their respective acoustic instruments. In their realm, feedback becomes a third member, playing off the musicians as they play off it, the third point in their triangular duo. Bordreuil's cello becomes percussion, while Bertucci transforms her clarinet into a droning Tibetan monk. Some passages recall the erratic compositions of Penderecki and Xenakis, though others resemble horror movie soundtracks, like Delia Derbyshire and Brian Hodgson's score for The Legend of Hell House. It's both tangible and abstract, like the whispers of ghosts in the other room at 2 AM.
Somehow, Lea Bertucci and Leila Bordreuil have tapped into the darkness that hides in the open light, e.g., shadows moving in the corner of your eye or a sense of déjà vu that comes from a nightmare. Step into their alternate world and commune with the spirits who still live on your block.