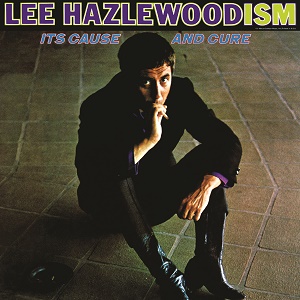 2 May 2016
High on a lavish deal with MGM, Lee Hazlewood had money to burn in 1966. He spent it on top-shelf Scotch, fancy perfume for his girlfriend, a Lincoln Continental convertible and his biggest passion: recording. His second album for the label actually found him in good humor, contrasting the bitter love stories of his previous effort, The Very Special World of Lee Hazlewood.
Hazlewoodism glows with the singer-songwriter's eclectic spirit. "The Girls in Paris" opens with an homage to the yé-yé chanson popularized by Serge Gainsbourg and Françoise Hardy before shifting to a Latin flavor with the recited country ballad "Jose" and lush orchestration of "The Old Man and His Guitar." "The Nights" returns to country ballad recitation, only with a story of Native American plight similar to Johnny Cash's 1964 epic, Bitter Tears (Columbia). "Home (I'm Home)" and "After Six" nod to folk rock, with the later "In Our Time" and "Dark in My Heart" noticeably referencing The Byrds. In between, "Suzi Jane Is Back in Town" explodes with New Orleans bravado, an audio cartoon that has girlfriend/collaborator Suzi Jane Hokom sounding like Olive Oil from Popeye. An instrumental, Tijuana Brass-flavored 7" credited to Lee Hazlewood's Woodchucks and a studio outtake of the Don Cole-penned "Batman" round out the release as bonus tracks.
It didn't last forever. Hazlewood would only release one more album before being dropped by the label simply because they couldn't figure out how to market him. Here, however, he was probably at his most content.
comments powered by