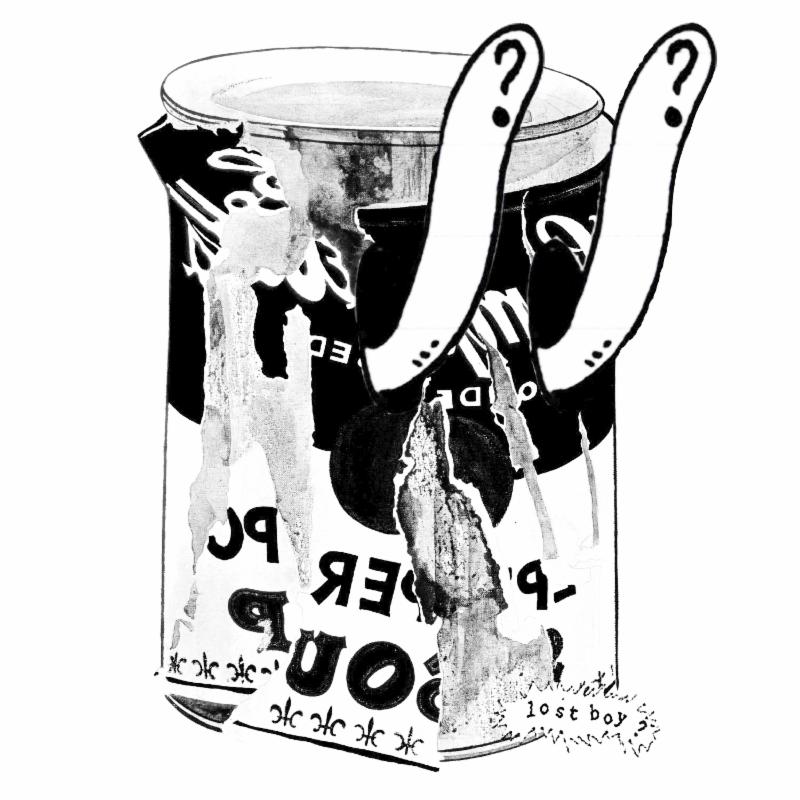 22 April 2015
It's tough sometimes to draw a dividing line between music that I genuinely enjoy and music I enjoy solely because it reminds me of another time. As a child of the 90's, I've been loving the current trend in indie rock towards influences from that decade. As a writer however, I always feel like I need to take an extra step in defending why an artist is more than just a happy reminiscence of childhood. In my mind, there is a clear difference between those artists that are using sounds from a different time to create something new and those who are abusing those sounds to poorly cover a lack of creativity. I've made that decision before I begin writing about an artist. In today's environment, who has the time to write about albums you don't enjoy? What's the point? Nevertheless, I still feel an extra responsibility to defend those artists from assumptions that their only value is in a reference to the past.
That is the case with Lost Boy ? and their newest LP Canned. The 90's references are easy to pick up. I could write an entire article about hearing the swirling fuzz of Neutral Milk Hotel, the lazy jangle of Yo La Tengo, the quirky lyrics of Pavement, or the heavy rock tempo of Weezer on this album. That alone would be enough to justify a listen (in my mind). Somehow though, it would also seem overly reductive in trying to explain what Canned is and how good it sounds.
Canned is the follow up to 2014's Wasted EP, released on Exploding In Sound, and marks the first Lost Boy ? full-length album recorded as a band, with songwriter Davey Jones (guitar/vocals), joined by Ryan Foster (guitar), RJ Gordon (bass) and Matt Gaffney (drums). Lost Boy ? began by Jones, self-releasing a number of LPs, EPs and singles the past half-dozen years from his apartment in Long Island. Since it's inception, Jones, backed by a number of different musicians, have played shows with the likes of DIIV, Celestial Shore, Daniel Johnston, R. Stevie Moore, The So So Glos, Skaters, Mr. Twin Sister, Purling Hiss, and a national tour supporting Titus Andronicus.
I have to admit being a little shocked to find out there were only four members in Lost Boy ?, because one of the very first thoughts that popped into my head when listening to this new album was, "How many guitars are in this fucking band?". Guitar is all over the place on Canned. They strum acoustic in the background. They jangle an electric rhythm. There are dual solos. Most importantly, there is lots of massive, crunching feedback. I have absolutely no idea how Jones & Co. pull off these songs live, because it sounds like he is playing multiple guitar tracks on every song.
The best moments of the album come late when Jones drops the vocal filter from "Fuck This Century" and "Hemorrhage" and comes off sounding like something that would fit right at home on a Parquet Courts or Cheap Time record. This seems to be the band at their least composed and, unsurprisingly, it works the best. This is rock music after all. But this also provides some evidence that there are truly good songs at the heart of those 90's influences, layered guitar tracks, and loud fuzz.
With those massive crunching guitars laid on top of the almost geeky vocal delivery, there is something really endearing about how the entire record comes together. Think something similar to what Telekinesis pulled off on their last record, though Lost Boy ? never fully approach anything I'd call Power Pop (perhaps just a little on "Bank"). As a matter of fact, I have a problem giving this band any kind of genre definition. Psychedelic Punk? Feedback Folk? Who gives a shit? This is perfect music for a happy summer day. Just put the record on, shut your mouth and turn the volume up.